Updated/reviewed: 3/27/20
---
---
USEFUL LINKS
GOV. STITT'S ORDER TO CLOSE NON-ESSENTIAL BUSINESSES
CITY OF ADA, OKLAHOMA EMERGENCY ORDINANCE ON COVID-19
CENTERS FOR DISEASE CONTROL COVID-19 INFORMATION SITE
OKLAHOMA HEALTH DEPARTMENT COVID-19 INFORMATION SITE
OKLAHOMA HEALTH DEPARTMENT COMMUNITY SPREAD GRAPHIC
---
USEFUL PHONE NUMBERS
ECU Student Health Services: 580-559-5713
Pontotoc County Health Department: 580-332-2011
Oklahoma COVID-19 Hotline: 877-215-8336
Emotional Distress Hotline: 800-985-5990
---
April 3, 2020 - Update from Employment Service on Families First Coronavirus Response Act (FFCRA)
---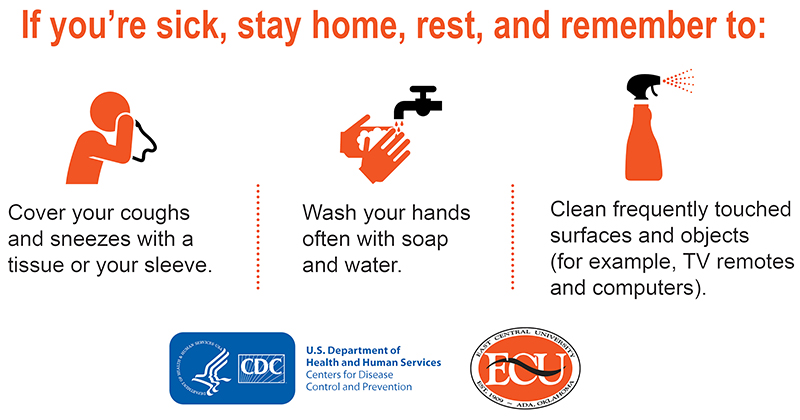 ---
FREQUENTLY ASKED QUESTIONS (FAQ)
We are currently building a Frequently Asked Questions page. If you have a question, please email employeeinfo@ecok.edu.
Q: What if I feel ill?
A: If you believe your symptoms warrant testing, contact the Pontotoc County Health Department, ECU Student Health Services, or the state of Oklahoma's COVID-19 Hotline (numbers at top of this page).
Q. If I have to get a COVID-19 test, is it covered by insurance?
A: Yes. ECU's benefits package includes the Zero Card, which covers the full cost of a physician-ordered COVID-19 test. Full details may be found at www.thezerocard.com/covid-19.
Q: I traveled over Spring Break, so what do I need to do?
A: If you traveled outside of Oklahoma for Spring Break, it is recommended that you contact the Oklahoma State Department of Health to see if self-quarantine should be warranted. Call the OSDH COVID-19 Hotline at 877-215-8336 or visit the site at www.coronavirus.health.ok.gov.
Q: How long do we get for Spring Break?
A: ECU is extending Spring Break an extra week for students only. 
Q: I am a student worker. What do I need to know?
A: Your direct supervisor will be in contact with you.
Q: Is the campus closing?
A: Yes. The ECU campus is closed until further notice. Gov. Stitt ordered all non-essential businesses in counties with confirmed COVID-19 cases to close for 21 days, midnight March 26 through April 16. We will comply with the order and close all non-essential operations. All buildings will be locked during this time. There are a few operations that remain essential to campus. Personnel from those areas will be on campus to perform specific functions. The vice presidents overseeing those areas will communicate the individual plans for those employees. Many employees are working remotely and will continue to do so. This new order prevents employees from working in their offices. Do not return to your offices until the order is lifted. Communicate with your vice president if you believe you need to be on campus. Personnel who cannot telework and are not needed on campus will be on administrative leave through April 16.
Q: Will Taff Cafeteria keep the same hours?
A: No. The ECU campus is closed until further notice.