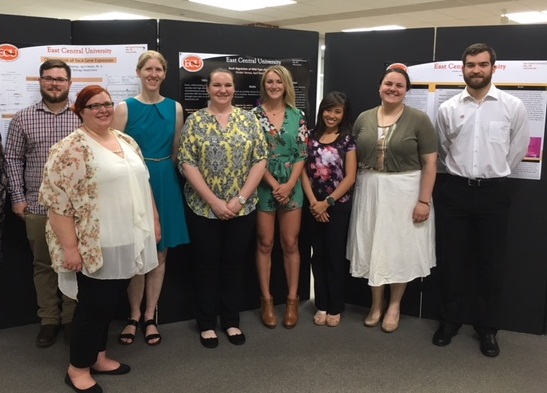 Welcome to the ECU Molecular Biology website. It is an exciting time to be a molecular biologist! Whether you are interested in biotechnology, forensics, or medicine, each of these fields now relies heavily on molecular biology methods.  The use of these techniques allows cheap production of pharmaceuticals, rapid genetic modifications of entire organisms for agricultural and research purposes, and accurate identification of everything from pathogens to people. The molecular biology concentration within the East Central Department of Biology provides both classroom and lab training for those who wish to pursue careers in this cutting edge field.
State of the art laboratory facilities and equipment are integral parts of the molecular biology experience at ECU. These are utilized in formal, course-associated labs and in mentor-directed student research projects.  East Central students are also heavily involved in research projects at the Robert S. Kerr Environmental Research Center in Ada, OK and in summer research internships throughout the U.S. ECU graduates who have taken advantage of the abundant opportunities available through the Molecular Biology program are well equipped to enter an expanding field that emphasizes both technology and scientific creativity.
Morgan Mackey and Blake Scott were both molecular biology majors who are now succeeding in medical school and graduate school, respectively.
Use the links below to find specific information about the molecular biology concentration, including molecular biology courses, degree requirements and various research and job opportunities, both internal and external.  Please feel free to contact Drs. Alisha Howard (580-559-5792) or April Nesbit (580-559-5501, anesbit@ecok.edu) with questions about entry into the program.