Legal Studies Program
The Legal Studies Program is much more applied, teaching skills that will be applicable in the law office, such as legal business applications and knowledge of specialty law subjects. Most classes are based on lectures and focused projects. The program studies the connection between law and politics and is a popular avenue to law school.
Legal Studies Program Goals and Objectives
To offer a Bachelor of Science degree in Legal Studies.

To prepare students for r acceptance and entry into law school, other graduate schools, or paralegal employment in law firms, business, industry, and government.
To meet these goals and objectives, Legal Studies students:
Will complete fifty-four (54) credit hours of legal studies and related course work, forty-five (45) credit hours of general education and twenty-five (25) credit hours of electives.
Will receive instruction in legal studies by broadly trained academicians and highly trained and experienced specialists in specific fields of law.
Will complete the required written assignments in the form of research papers, case briefs, argumentative briefs, memoranda, and other legal documents specific to each Legal Studies course.
Will complete two three-hour courses in Legal Research and Writing.
Will complete a three-credit-hour internship in a legal environment.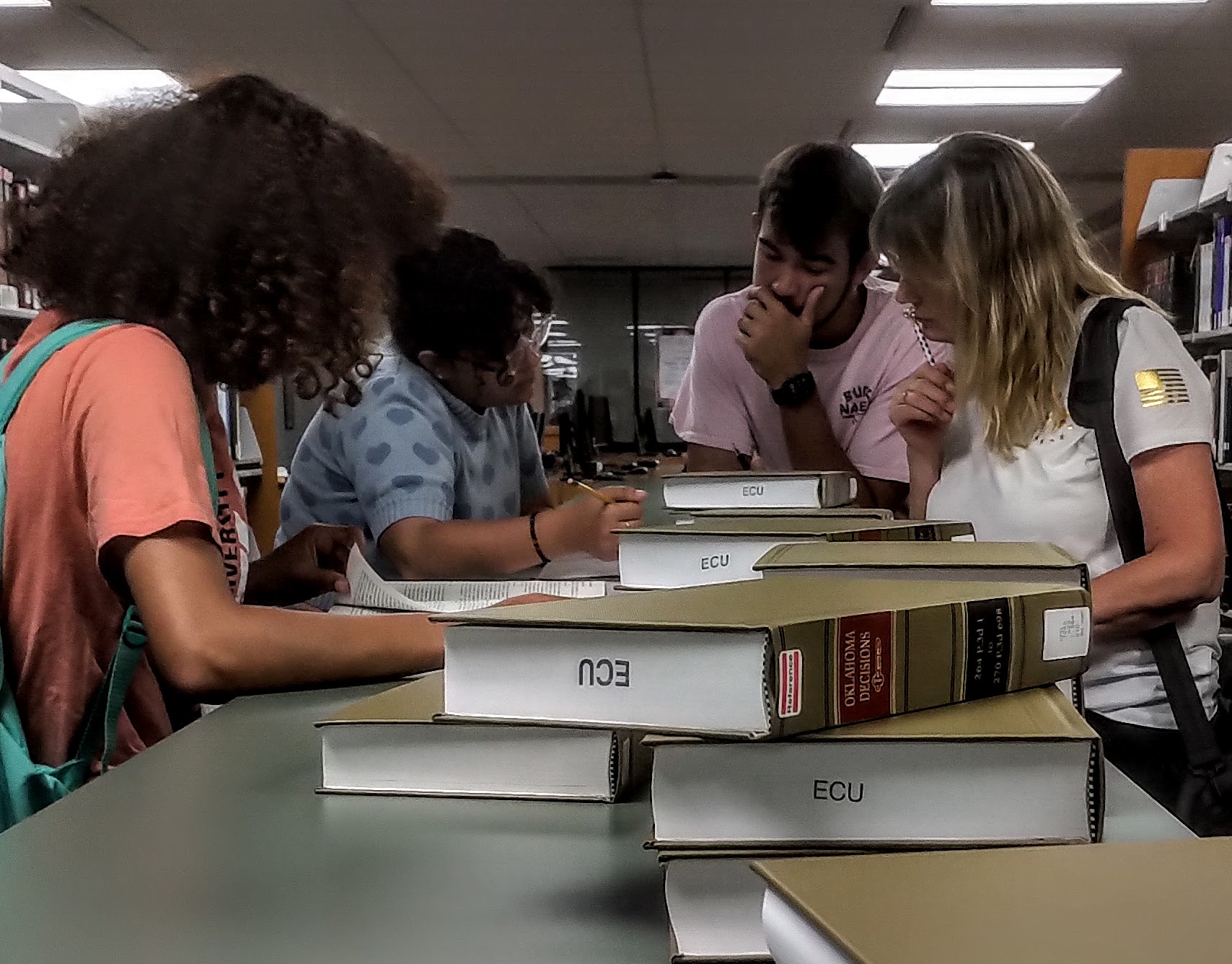 The program's objectives and the tasks program graduates should be able to perform are:
Demonstrate the acquisition of a common core of legal knowledge.
Demonstrate critical thinking through the integration of legal theory and legal practice.
Demonstrate oral and written communication skills with lawyers, clients, co-workers, witnesses, court personnel, and other professionals.
Demonstrate the acquisition of skills and occupational competencies necessary for entry into the legal field or for acceptance to post-graduate institutions
Demonstrate an understanding of the emerging issues regarding the role of the paralegal and attorney in the effective delivery of legal services in both the private and public sectors.
Demonstrate the acquisition of a framework for ethical decision making and solving ethical dilemmas that arise in the legal work environment.
Bachelor of Science in Legal Studies
The Bachelor of Science in Legal Studies is designed to provide the foundation for law school and furnish the necessary academic skills for entry level employment as paralegals with law firms, private enterprises, and governmental agencies. Paralegals perform specifically delegated substantive legal work for which an attorney is responsible. Paralegals may not provide legal services directly to the public, except as permitted by law. 
This program of study provides students with a liberal arts degree emphasizing analytical and communication skills applicable in any law-related field. It exposes students to a broad spectrum of the law, including its theoretical, procedural, and practical aspects. Students benefit from challenging coursework as well as a wonderful liberal arts education. It provides solid academic preparation for students interested in graduate and law school. Law schools want students with a broad based education who have highly developed reading, analyzing, writing, and speaking skills emphasized in our legal studies major. Legal Studies graduates work in legal related areas of corporations, banks, and in U.S., Oklahoma, and Chickasaw Nation governmental agencies and institutions.
B.S. Degree for Major in Legal Studies; 124 semester hours are required. Students must take 45 semester hours of general education, 54 semester hours of major courses: legal specialty (27 required), political science, or law-related, and 25 semester hours of general electives. The Program Director is available to assist students to plan their course schedules.
The Degree Plan provided by clicking on the link below is a generic plan.
Dr. Jenna Owens instructs her Legal Research and Writing classes reading reporters. Students should learn how to conduct legal research in the books before they convert these skills to using online resources.