Commencement will take place on May 8, 2021
at 10:00 am at Koi Ishto Stadium
We are happy to announce that each graduate can reserve up to FOUR tickets for your guests for the May 2021 East Central University Commencement Ceremony!

Reserve your tickets by Monday, May 3, 2021 at May 2021 Commencement Ceremony

Pick up your tickets beginning Monday, April 26, 2021, in the Office of Admissions & Records, Administration Building, Room 111
The ceremony includes an address by the ECU President and a commencement speaker, and are approximately one and a half hours long. For more information about commencement, please view the guidebooks and instruction links.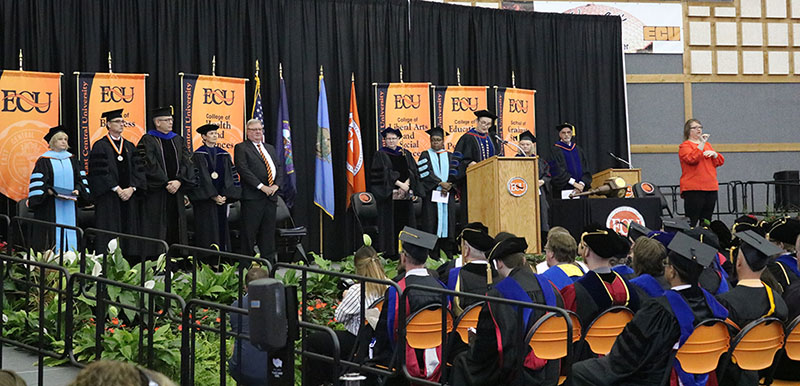 Commencement FAQs
Will there be a limited number of guest tickets?

Yes. Each candidate will be limited to four (4) guests.
Do children count as guests?

Children five and under do not count towards the four guest tickets.
Can I purchase additional guests tickets?

No. Due to safety protocols, seating will be limited.
How do I get my guest tickets?

Each candidate must reserve tickets for their guests using the survey link above by May 3rd.
Where can I pick up my tickets?

Tickets can be picked up in the Office of Admissions and Records located in Room 111 of the Administration Building.
Can I have my tickets mailed to me?

To avoid tickets arriving late or being lost in the mail, ECU will have a Will Call at Koi Ishto Stadium the morning of the ceremony instead of mailing tickets to the candidates.
Do I need to pay a graduation fee?

Graduation fees have been waived for Spring and Summer 2021 graduates.
How do I get my cap and gown?

You may pick up your cap and gown at the ECU Bookstore or you can request that the cap and gown be mailed to you. Contact Christine King at (580) 559-5511 or bookstore@ecok.edu for any other questions.
Will I have to wear a mask at the commencement ceremony?

Yes, candidates and guests will be required to wear masks.
Will commencement be live-streamed?
What will happen if there is inclement weather? 

Unfortunately, the event will be canceled if there is inclement weather. 
How to Order Official Transcripts
Login to MyECU.ecok.edu.

Click on your "Student" tab at the top right.

Click on "Transcript Requests" on the bottom left side of the screen.

Click on the "Request Official Transcript" link.

Click on "Begin Order" at the top of the screen.

Follow instructions to complete your order.
If you want a transcript with your degree on it, make sure to click the box "Hold for the degree to be posted:  Spring Semester" or "Hold for the degree to be posted:  Summer Semester".