East Central University now offers payment plans to assist students in managing their financial obligations.  Use of the plan costs $35, but no other down payment is required.  Afterward, payments are due once per month with the final payment due the last week of classes.
WHO SHOULD USE THE PAYMENT PLAN?
Any East Central University may use the payment plan for their current semester of enrollment.  Not everyone will need to use the payment plan, however.  The most common usage will be for those students who want to spread out their payments over the course of a semester rather than pay in full by the due date at the beginning of the term. Keep these things in mind when deciding whether to use the payment plan.
The payment plan does not cover any balances owed from previous semesters.  The university does not offer a formal payment plan for outstanding balances from prior semesters.  These balances must be paid in full prior to enrollment, transcript requests, or issuance of diplomas.
Students who cannot pay in full by the semester due date, which is always available via the Dates and Deadlines portion of the website, must enroll in a payment plan to secure their enrollment. 
If you have guaranteed full funding from an organization the university directly bills, e.g. the Veterans Administration, some Department of Human Services grants, Texas Tomorrow, or a similar organization, you do not need to use the payment plan.  If you have not already, you will need to contact the Bursar's Office to make sure we know we are billing a third party for you.
Students who have federal funding via Pell, Direct Loans, Parent Plus Loans, etc. that cover the entire balance of their account -- including tuition, fees, housing, meal plans, and any books charged -- do not need to sign up for a payment plan. 
Many students who live on campus will have the costs of their courses paid by federal funding but still need to pay for housing.  The payment plan is a good way to set up monthly payments rather than pay the entire amount up front.
BENEFITS OF PAYMENT PLAN
By enrolling in the ECU Payment Plan, you will have extra time to pay your tuition and fees.  The final due date will usually be the last week of classes prior to graduation ceremonies.  This will also give you time to finish paperwork for various funding sources that you may have missed while planning for your education. 
For example, if you have not filled out a FASFA on the day classes begin, you still have time to do so.  However, any funding you may receive will not arrive until much later in the semester.  In these cases, you should sign up for a payment plan.  If the funding is approved, it will then pay it off for you.
As a bonus, students who enroll in a payment plan will be allowed to participate in early enrollment even though they still have a balance. 
HOW IT WORKS
When you sign up for a payment plan, a budget will be calculated that is based on your current balance and any pending financial aid.  Pending aid includes private scholarships for which the university has already received funding, Pell grants and Direct Loans that have been fully awarded and accepted by the student via the financial aid section of MyECU, and some other guaranteed forms of funding.
For example, if your total balance is $5000 and you have $4000 in financial aid already pending when you enroll in the payment plan, the payment plan budget will be $1000.  This amount will then be divided into 5, 4, or 3 payments, depending on when you enroll in the plan. 
Any changes to your balance that occur after you have signed up for the payment plan will cause your total plan to be recalculated.  This will change the amount of each of your remaining payments.  For example, if you still owe $1000 on a payment plan with two payments of $500 each left and sign up for a second-half 8 week class, this will add approximately $700 to your bill.  This will change each of the remaining payments to $850.
Likewise, any additional funding received after you have enrolled in a payment plan will reduce your total plan balance.  If you owe that same $1000 and receive $2000 in funding, the payment plan will be paid in full, and you will receive a $1000 refund.
You will receive payment reminders as due dates approach and additional reminders if you make a late payment.  Late payments are subject to a $10 late fee for each late payment.
HOW TO ENROLL IN PAYMENT PLAN
To enroll in a payment plan go to MyECU and navigate to the Student Finance Center as though you were making a regular payment.  This will take you to CashNet and present you with a screen that looks something like this: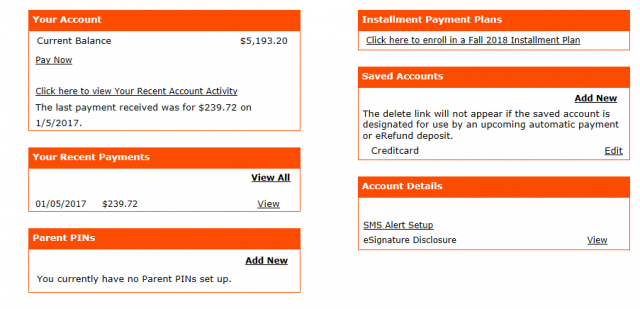 This screen shows you your overall balance and some details about your account.  On the right side at the top are all payment plans currently available.  You will click on the one indicating the semester for which you wish to add the payment plan.  This will take you to another screen where you will be presented with a disclosure statement you must accept to continue. Please read the disclosure and click Accept.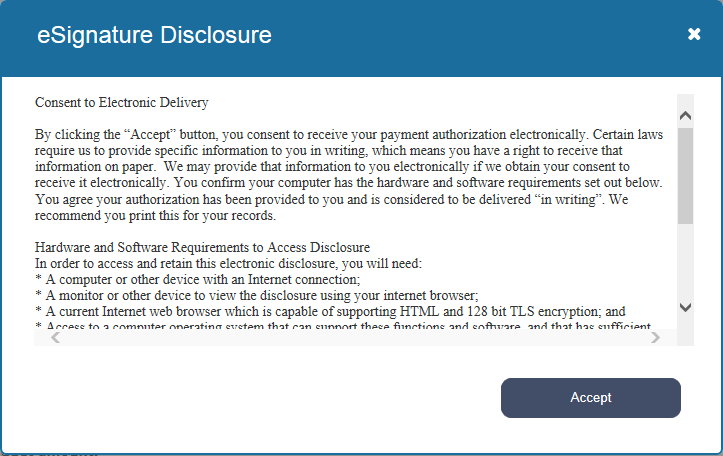 The payment plan system will then collect information about your current balance and any pending aid.  This will create a payment plan budget that will be divided into equal amounts based on the number of payment due dates in the plan.  Past due balances are not included in the budget.  Any past due balance from a previous semester must be paid in full.  The screen will look something like this:
The top part of the screen displays the items on which the budget amount is based. The middle section lets you know that there will be a $35 charge for using the payment plan and what percentage of the total balance that equates to.  The bottom section then tells you what each payment will be and when it is due.
If the terms are acceptable, scroll to the bottom, accept the terms by clicking the check-box, and then click continue.  From here you will be directed to enter your payment information to pay the enrollment fee of $35. 
After enrollment in the payment plan, you will make payments as described on the Payment Options page.  Any financial aid received after you enroll in the payment plan will reduce your overall plan balance and recalculate your installment payments accordingly.  You will receive a notification via e-mail reminding you of due dates.  If you have not paid by the due date, you will receive additional reminders that a payment is due.  A late fee of $10 will be assessed for payments made after the due date.
If you have any questions or concerns, please contact the Bursar's office.  Our phone number is 580-559-5227, or you can send an e-mail to bursarsoffice2@ecok.edu.  We are also available in person in the Administration Building, Room 108 from 8:00 am to 4:30 pm Monday - Friday.