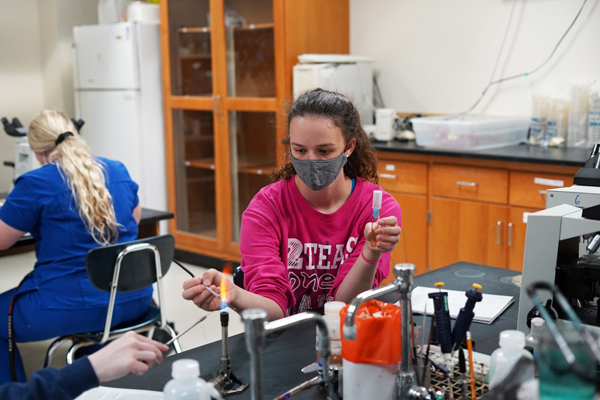 Unique among universities, ECU has made a commitment to supporting undergraduate research. ECU is the only regional university in Oklahoma to have a dedicated research facility for undergraduates. The Center for Undergraduate Research and Learning (CURL) houses a collaborative network of laboratories, including the Cellular and Molecular Research Laboratory. These facilities host multiple active projects from the Molecular Biology department including research on Human T-cell Leukemia Virus type-1 proteins and regulation of sugar genes in bacteria.
Molecular Biology is the study of life in its smallest forms. It looks at the macromolecular pieces that make up what we see around us, including DNA, RNA, proteins and lipids. Molecular biologists study the mechanisms governing molecular control of cellular processes and the interactions between various cell systems. From the study of life, to the application of cutting-edge technologies to the life sciences, molecular biologists provide the link and tie between multiple branches of the STEM fields. It has been integrated in fields such as Physics and Chemistry to Field Biology, Genetics and Medicine.
Department of Biological + Environmental Science​
The Department of Biology offers majors in four bachelor degree concentrations. A bachelor of science is designed for students who plan to become practicing biologists in industry or government, or plan to pursue a graduate degree in Biology.
This degree concentration is usually chosen by those students who need pre-professional training before entering the schools of Medicine, Dentistry, Veterinary Medicine or other health related professional schools. A Bachelor of Science for Teacher Certification gives a prospective science teacher an appropriate academic background in biology and in the methods of teaching. The Bachelor of Science for Molecular Biology prepares students for graduate research, medical school and admission exams, and/or employment in the rapidly growing fields of biotechnology, agribusiness, industry, law enforcement and molecular biology.
A Bachelor of Science for Clinical Laboratory Science prepares students to conduct and supervise complex medical tests, clinical trials and research experiments; manage clinical laboratories; and consult with physicians and clinical researchers on diagnoses, disease causation and spread, and research outcomes.
This degree concentration requires three years of prescribed study on campus followed by a year of clinical training in an approved hospital School of Clinical Laboratory Science.