INSPIRE GENEROSITY.  PROVIDE OPPORTUNITY.  EXCEED EXPECTATIONS.
   
To date, C3 has raised over $1 million in cash and pledges,
from over 100 individuals and organizations.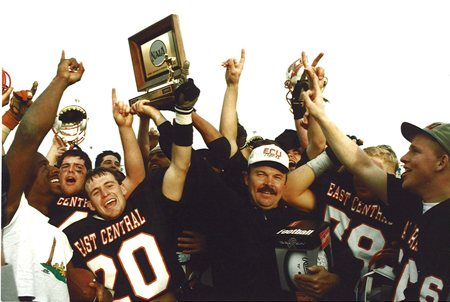 The East Central University Foundation, Inc. (ECUF) has created the Commitment to Championships Campaign (C3) to be the catalyst to transform ECU football into a dominant program in the Great American Conference. ECUF believes that the student body's exposure to excellence in competitive activities – particularly athletics – greatly enhances the campus experience while bringing more recognition to the university.
C3 is an all-encompassing campaign to ensure that Tiger football has the operational resources needed to be competitive moving into the future. With the goal of establishing a $5,000,000 income-producing endowment, C3 will provide supplemental funding for the following:
Player equipment
Additional coaches
Performance incentives for coaches
Recruiting expenses
Team Travel
Expenses associated with postseason play
For more information, contact:

John Hargrave
580-559-5514
hargrave@ecok.edu