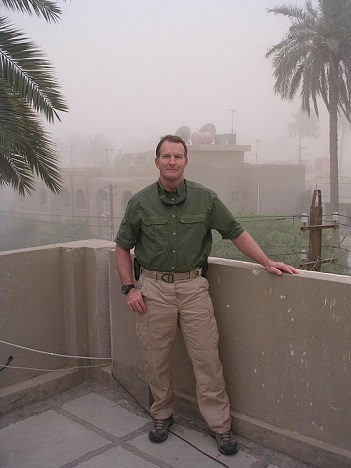 LT. COL. ROD C. RICHARDSON

            Between stints of serving in the United States Marine Corps, Rod Richardson had three experiences of a lifetime, all while attending East Central University.
            Richardson met his future wife Rita Aleene Wiley, played football on a conference championship team in 1975 under head coach Pat O'Neal and earned his degree from ECU in 1976. Throughout his years in the United States Marine Corps, Lt. Col. Rod C. "K2" Richardson was a leader in training and fighting whether it be in the jungles, in the desert or on the oceans patrolled by the U.S. Fleet.
            To this day, several operations Lt. Col. Richardson participated in are still unknown to the public.
            His bravery was on display through many paratroop jumps. He also exited from submerged submarines through the torpedo tube to lead his reconnaissance unit swimming to shore to recon on the beach.
            Richardson also developed a love and ability to teach mountain climbing and warfare tactics at the Pickle Mountains Training Site in the Sierra Nevada Mountain Range. Later that climbing ability allowed him to ascend several of the highest peaks in the Himalayas and elsewhere.
            Born on Oct. 3, 1952 in Lamar, Colorado, Richardson, son of Gene and Reta (Fisher) Richardson, was reared and educated in Kansas and Oklahoma. He graduated from Boise City High School in 1970. 
Following his graduation, he enlisted in the United States Marine Corps and served in Vietnam before returning to Oklahoma where he graduated from ECU. Rod and Rita were married on July 2, 1977 in Shawnee.
            After completion of his degree at ECU, Richardson re-entered the Marines and pursued a military career. He attended Officers Candidate School at Quantico, Virginia and was commissioned as Second Lieutenant.
            Richardson held ever-increasing assignments and responsibilities with the Fleet and in the Far East, mixed with shore duty and Marine Schools in the United States. He was also chosen to serve a two-year duty with the British Royal Marines in England.
            Richardson retired from the Marine Corps in 1994 and returned to life in Nevada with Rita where he became involved with "Rite of Passage," a program to assist troubled youth and a place where he could make an impact on the next generation. At the same time, he completed his master of business administration from Chapman University.
            After the Global War on Terror began in 2001, Richardson began working as a civilian contractor providing VIP security services throughout the Middle East, first in Afghanistan and primarily in Iraq.
            On Oct. 4, 2006 near Baghdad, Iraq, Richardson was killed as a result of injuries received from an improvised explosive device.
            He strongly believed in service, discipline, physical training and developing the abilities of those he commanded. He was known to care for his men but did not expect them to do anything he could not do. He was known for always being out front as a leader.
                        
 
Funds will be designated to establish the Rod Richardson Memorial Scholarship to assist football players who have used up their eligibility to play, but still seek their degree.