01:30 pm 2018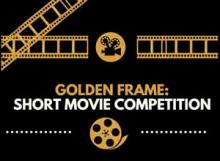 Ataloa Theater, Hallie Brown Ford Fine Arts Center
International Student Connection Club of East Central University invites all the interested participants to participate in "Golden frame: Short Movie Competition". The competition is open theme an open for anyone to participate. 1st, 2nd, and 3rd prizes are $500, $300 and $200 cash respectively. And there are more available to the winners. The short movie should be maximum 10 minutes (no minimum time). Different university and High Schools are invited, so hurry up for registration. Registration starts from Feb 18, 5 PM to August 15, 2018. Entry fee is only $10 but late entry fee will be $20 after July 31. For more information visit https://isccecu.blogspot.com
Or submit your video to https://goo.gl/forms/Zo3BbUa33YJFtPF32
Basic rules for event:
1) If video of even 1 sec longer than 10 minutes, their submission will be invalid. If they submit such video, their video will be disqualified without refund.
2) The video should not be promoting drug abuse, hatred towards people, religion, country etc and religious endorsement. Upon happening such, their submission will be invalid.
3) If video is submitted after 11:59 pm of July 31, 2018, the participants will pay $20 the entry fee.
4) Participants will be able to view their video online and share the link of the video to increase their vote after 11:59 PM of August 18, 2018 11:59 pm to 11:59 PM of August 30, 2018.
5) The results will be announced only in September 16, 2018. So, at least one of the representative among the participant of each video should be able to come to the event by 1:30pm of 16th of September.
6) If the video is made in different languages, then it must contain English subtitles.
7) The video can be animated and or filmed but in September 16, 2018 at least one of the person from the video should be present. Unable to make an appearance will lead to disqualification.
8) If the same video is uploaded twice then only the recent submission will be accepted for any more submission, there will not be any refund.
Follow at Facebook on: www.facebook.com/Isccecu