Senior Day is a day offered in the Fall where high school seniors and their families are invited to spend the day with us at ECU.  Participants will take part in fun activities, speak with faculty and staff and learn more about the East Central University student experience.  Senior Day will be held on November 7th from 9 AM - 2 PM.  Registration starts at 9 AM in the Hallie Brown Ford Fine Arts Center.
The event will open with a welcome assembly, next students are invited to visit with faculty at a college fair-style Academic Fair, then Finacial Aid, Housing and Campus Involvement will speak and take questions. Lunch will take place in our wonderful cafeteria and we'll close with optional campus tours at 1:00 pm. Students will be provided a free lunch and free t-shirt!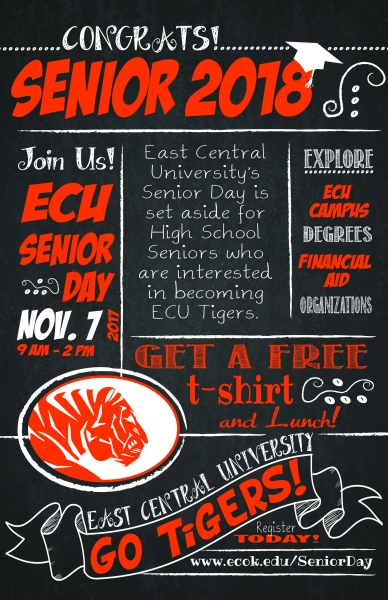 Please call Admissions at 580-559-5628 if you have any questions.
For directions : CLICK HERE.
Don't miss out on this great event and others like it! Join our mailing list here.