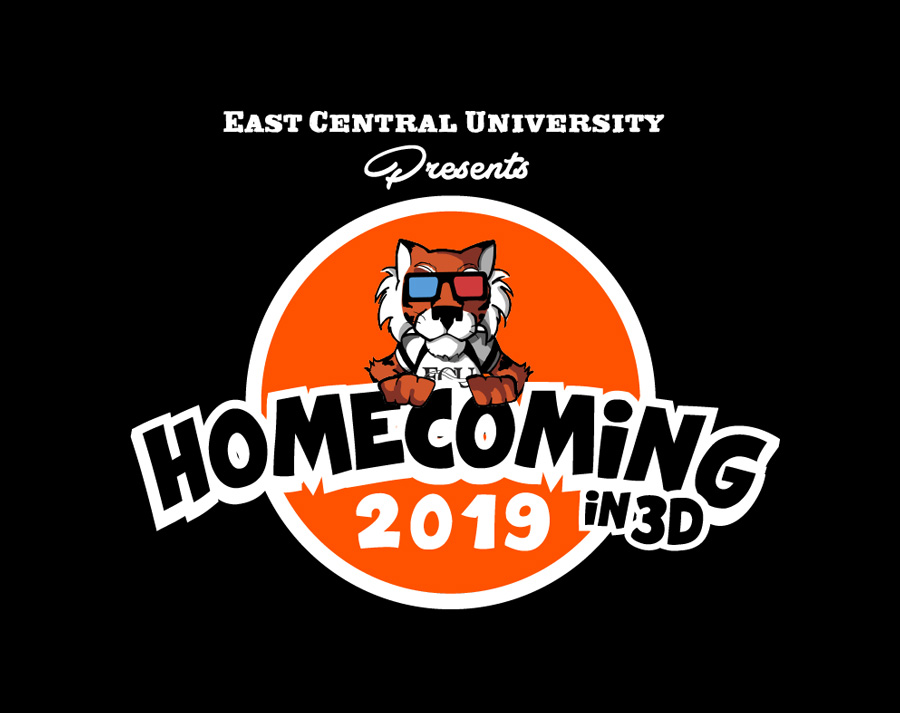 HOMECOMING 2019 - September 20 & 21 - "Homecoming in 3D"
To participate in any Homecoming events, your organization must be a fully recognized organization at ECU and the Office of Campus Involvement. There are TWO divisions of competition: Greek Organizations and Student Clubs & Organizations. Contest results and Division Champion winners will be announced AFTER the football game on Saturday, September 21, as well as posted updates throughout the week on the ECU social media. Decisions of the Office of Campus Involvement are FINAL. NOTE: Tuesday, September 10 is the deadline for all Homecoming forms.
DODGEBALL TOURNAMENT
There will be a Dodgeball Tournament at 6 p.m. Wednesday, September 18, inside the McBride Gymnasium.

PEP RALLY/BONFIRE
The Homecoming pep rally and bonfire is at 8 p.m. Thursday, September 19, at Koi Ishto Stadium.
 
2019 COURT EVENTS - Homecoming Court Packet
ECU provides an opportunity for student club and organization-sponsored student representatives to compete and possibly be selected to the Homecoming Court. This selection is implemented through an interview and voting process. Court candidates need not be "couples", as candidates are selected for their representation of the greater campus community. Please refer to the Homecoming Court Packet for details.
Thank you for your interest in running for Homecoming King or Queen! Your interest and participation make you part of one of the longest-running traditions at East Central University. We hope that you view this opportunity as an honor and participate with the highest level of dignity, integrity, and respect. The Homecoming King and Queen represent the University at major events and on special occasions and are among ECU's most prominent student leaders. Winners will also be required to participate in two on-campus community service events during the academic year.
 
ECU students are encouraged to compete for Homecoming King or Queen pageant. Students may run independently or under the endorsement and/or sponsorship of a student organization. Students are not required to be a member of the organization in order to receive their endorsement/sponsorship. Students are permitted to run with another student. However, all students will be voted on individually.
 
By choosing to submit an application, it is expected that you have fully read and understood this packet. If you have any questions regarding the packet, please contact Tenecia Miller, Homecoming Advisor, at 580-559-5207. You are expected to follow all the rules and guidelines as outlined herein. Good luck on your quest for Homecoming royalty!


2019 HOMECOMING PARADE - 2019 Homecoming Parade Line-Up
The 2019 ECU Homecoming Parade starts at noon Saturday, September 21.
Car entries are encouraged but will NOT be judged.
A first place will be awarded in each division. There will not be an overall winner awarded.
The proper parade unit entry form must be turned in to the Office of Campus Involvement (Admin. 150), by 5 p.m. Wednesday, September 10.
Professional help of any kind in the planning or construction of the float or marching unit will result in automatic disqualification.
No float may be higher than 12 feet.
Each float must be able to move forward at a rate of 5 m.p.h.
Judging of Floats will be done in these areas (total points = 100): Adhering to Homecoming Theme = 30 points, Tiger Spirit = 30 points, Craftsmanship/Originality = 20 points, Overall Presentation = 20 points
The parade will start at Noon. All groups entering the competition must check-in at old Save-A-Lot parking lot at their assigned time. Late check-ins will result in a 15-point penalty. Check-ins and line up for the parade will take place at the assigned times on Saturday, September 21. All entries should be lined up and ready to go at their assigned times.
Absolutely no day-of-parade entries.
All units being judged in the parade must slow down but not stop while passing the judges and maintain a 50-yard distance from the unit in front of it.
Candy, gum, etc., may NOT be thrown from any floats or cars. Candy may be HANDED out from walking parade participants ONLY.
Floats should be decorated on both sides!

2019 CHALK ART CONTEST - Chalk Art Entry Form
No more than 2 people per team.
Single entries are accepted and encouraged.
All art must be reflective of the spirit of Homecoming; this year's theme " Oh The Place Tigers Will Go."
Permanent markers, paints, and oil-based chalks are prohibited on sidewalks.
The Office of Campus Involvement will provide all needed supplies.
All entry applications must be turned into the Office of Campus Involvement (Admin. 150) no later than 5 p.m. Tuesday, September 10.
Contest entries will be judged after 5 p.m. Monday, September 16.

2019 BANNER CONTEST (displayed in University Center) - Banner Entry Form                                                    
Dry banners are due by 5 p.m. Wednesday, September 11, at the Office of Campus Involvement (Admin. 150).
Banner size MUST be a twin bed sheet and must be made of cloth.
Your banner will hang vertically.
Banner must display your 12" by 12" number in the lower right corner (given after registration).
No glitter will be allowed; use of glitter may result in disqualification.
One of the colors used on the banner must be orange (5 points).
The cheer or slogan written on the banner must use the words "Tiger" OR "ECU or East Central University", AND have organization identification (5 points).
Entry forms must be turned in to the Office of Campus Involvement (Admin. 150) by 5 p.m. Tuesday, September 10. 
Banners will be judged in the following areas (total points = 100): Adhering to Homecoming Theme = 30 points, Originality/Creativity = 30 points, Overall Impression = 25 points, Adhering to Rules = 15 points.
Banner designers and artists must be current East Central University students.
The decision of the judges is FINAL.
Winners will be announced at the Spirit Rally.

2019 TRIVIA COMPETITION - Trivia Entry Form
Competition starts at 6 p.m. Tuesday, September 17, in the Ballroom.
Trivia will run under normal divisions (Greek and Student Organization).
Good sportsmanship is expected and required.
Teams up to eight members; one team per club or organization.
Teams will compete for the highest score.
Each question will be worth one point per team.
For those teams not placing 1st, 2nd, or 3rd in their division; 50 participation points will be awarded.
Trivia questions will be comprised of ECU history and Dr. Seuss questions (note: from his books).
Winners will be announced after the Homecoming football game.


Homecoming Forms

Court Packet

Court Application

Parade Entry Form

Chalk Art Entry Form

Banner Entry Form

Trivia Entry Form