East Central University offers a Bachelor of Social Work (BSW) degree program, which has been in existence since 1972. It was initially accredited by the Council on Social Work Education (CSWE) in 1984, and its accreditation reaffirmed by CSWE in 1988, 1995, 2003, 2011, and 2019. In 2019, it was named one of the Most Affordable programs in the country!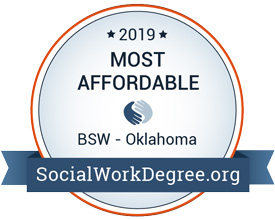 The mission of the East Central University Social Work Program is to educate the next generation of social workers for competent generalist social work practice in the face of adversity and an ever-changing world, our vision is to educate the next generation of change-making social workers.   The Program primarily achieves its mission by providing a quality curriculum that emphasizes competencies and practice behaviors consistent with generalist practice that are informed by the knowledge, values, and skills for professional social work with individuals, families, groups, and organizations, and communities in a variety of social contexts, including practice in rural communities.
The Program's mission is consistent with the profession's purpose of promoting human and community well-being, which is guided by a person and environment construct, a global perspective, respect for human diversity, and knowledge, based on scientific inquiry. The mission of the Program further reflects and advances the profession's values and the quest for social and economic justice, the prevention of conditions that limit human rights, the elimination of poverty, and the enhancement of the quality of life for all persons.
SOCIAL WORK ADMISSION REQUIREMENTS
Students who major in Social Work are required to apply for admission after completion of the following courses: Introduction to Social Work and Social Welfare; Professional Skills for Social Work and Social Welfare; General Biology or other approved human biology course; General Psychology; Introduction to Sociology; and Freshman Composition I and II, with at least a minimum grade of "C"; and have a minimum 2.25 GPA. Applications for Admission, which includes letters of recommendation, are accepted in the fall and spring semesters. After admission, with the Social Work advisor, a Plan of Study is developed with the student, which will guide the student's academic program at ECU.
SOCIAL WORK MINOR REQUIREMENTS
For Majors in Human Resources Fields - 500A
SOWK 2273 - Introduction to Social Work and Social Welfare
SOWK 2521 - Professional Skills for Social Work and Social Welfare
SOWK 3613 - Social Welfare Policies and Services
SOWK 4423 - Human Behavior and Social Environment II
Eight hours of electives approved by Social Work faculty
Minimum Total - 18 Hours
The Juvenile Justice major must select, with Social Work faculty approval, an additional Social Work course to substitute for SOWK 4423.

For Majors Not in Human Resources Fields - 500B
HURES 2103 - Interviewing Techniques
HURES 3183 - Case Management Practice
SOWK 2273 - Intro to Social Work & Social Welfare
SOWK 2521 - Professional Skills for Social Work and Social Welfare
SOWK 3613 - Social Welfare Policy & Services
Five hours of electives approved by Social Work faculty
Minimum Total - 18 Hours

SCHOLARSHIPS AVAILABLE TO SOCIAL WORK STUDENTS
Bridges-Burke Social Work Scholarship 
Applicants for this scholarships must be a full-time Social Work major with junior or senior standing and have a cumulative G.P.A. of 3.0 Applicants must be accepted into and have completed at least 12 hours in the ECU Social Work Program. This scholarship will be selected by the ECU Social Work Department.
Application

Richard E. Baumgartner Memorial Scholarship
Eligible applicants for this scholarship are graduate and undergraduate students in the Department of Human Resources. Graduate student applicants must have completed at least nine hours in the MSHR program with a cumulative G.P.A. of 3.0. Undergraduate applicants should be at the junior or senior level with a cumulative G.P.A. of 3.0. Applicants should possess leadership qualities and have strong potential to make a positive and lasting impact in the Human Services Profession.
Application
Lowell E. Green Human Resources Scholarship
The recipient of this scholarship must have a major in Human Resources, preferably in the Rehabilitation Counseling area. Preference is given to a student with a disability. The recipient must be at least a junior and must maintain a 3.0 G.P.A. before being considered for the award.
Application