Alexandra L. Aguirre-Berman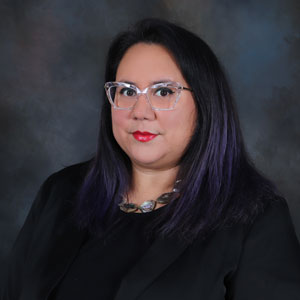 Building:
Hallie Brown Ford Fine Arts Center
Alexandra Aguirre has performed as a flutist all over the world. Her career has allowed her to perform as a soloist, a chamber musician, and an orchestral musician.
She is a founding member of Madera Winds and the Ambrosia Flute Trio. She has made appearances at the Festivales Internacionales de Flautistas in Peru, UTRGV's Flute Day, the National Flute Association Conventions, Colorado Flute Association, Oklahoma Flute Society, International Clarinet Association Convention, the World Saxophone Congress in France, the International Saxophone Symposium, Oklahoma State University Saxophone Summit, and the North American Saxophone Alliance National and Regional Conferences.
She is also an active pedagogue, having developed an innovative technique using the Nintendo Wii to monitor body movement while playing the flute. She has also judged competitions and taught masterclasses in Peru, New Mexico, New York, Colorado, and Oklahoma.
She has performed as a soloist with the New York University Symphony Orchestra, directed by Gunther Schuller. She also won the National Flute Association's Jazz Flute Big Band Competition and the Great Southwest Flute Fest's Chamber Music Competition.
She is currently a doctoral candidate at the University of Northern Colorado. She received an MA and BM from New York University.
Department - Position
Department of Performing Arts - Director of the School of Fine Arts, Adjunct Instructor of Flute