2:30 pm 2020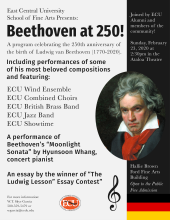 A program celebrating the 250th anniversary of the birth of Ludwig van Beethoven.
Including the performances of some of his most beloved compositions and featuring: The ECU Wind Ensemble, The ECU Symphonic Band, The ECU Chorale, ECU British Brass Band, ECU Jazz Band, ECU Showtime.
A performance of Beethoven's Moonlight Sonata" by The Winner of the Statewide "Beethoven at 250!" Piano Competition.
An essay will be read by the winner of "The Ludwig Lesson" Essay Contest.
Free Admission to the Public!
For more information contact W.T. Skye Garcia at (580) 559-5479 or wgarcia@ecok.edu
Event Location
Ataloa Theatre