3:00 pm 2020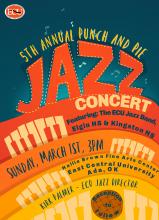 The East Central University Jazz Band will present the 5th annual Punch and Pie concert.
The concert will be Sunday, March 1st starting at 3 pm in Hallie Brown Fine Arts Center on the campus of East Central University.
The concert will feature the Kingston High School and Elgin High School Jazz Bands, along with ECU Jazz Band.
Directors of the two High School Bands are both ECU graduates, Lance Resietter-Kingston, and Michael Palmer-Elgin.
Refreshments will be provided by Kappa Kappa Psi, Honorary Band Fraternity, after the concert.
The event is free and open to the public.
Event Location
Hallie Brown Fine Arts Center