7:30 pm 2018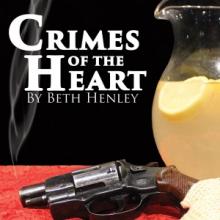 Chalmers Herman Theatre, Hallie Brown Ford Fine Arts Center
Performances are each night at 7:30, Thursday through Saturday.
Senior Margie Beck will direct Beth Henley's award winning "Crimes of the Heart" in the Chalmers Herman Theatre. The tragicomedy is set in Hazlehurst, Missouri in the mid-20th century and won the 1981 Pulitzer Prize for Drama.  The story follows the three McGrath sisters who reunite in Old Grandaddy's house after Babe has shot her abusive husband.
Ticket prices range from $5 for children to $10 for adults. ECU students and employees get in free with ECU ID.
Click here to purchase tickets.