3:00 pm 2023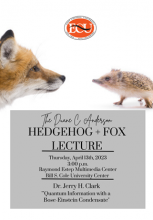 Dr. Jerry H. Clark
"Quantum Information with a Bose-Einstein Condensate"
East Central University is once again hosting its Annual Duane Anderson Hedgehog + Fox lecture.
Each year instructors throughout the university are nominated to share their recent research or published work. A committee chooses one nominee for the prestigious honor of being that year's lecturer.
The 2023 Hedgehog + Fox lecture will be held on Thursday, April 13, 2023, at 3pm in the Raymond Estep Multimedia Center in Bill S. Cole University Center at East Central University.
We would like to invite ECU staff, faculty, and students, as well as our community supporters to join us. 
Event Location
Raymond Estep Multimedia Center in the Bill S. Cole University Center