1:00 pm 2023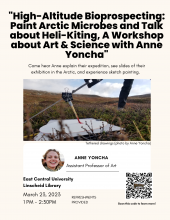 High-Altitude Bioprospecting: 
Paint Arctic Microbes and Talk about Heli-Kiting, A workshop about Art & Science with Anne Yoncha. 
Come hear Anne explain their expedition, see slides of their exhibition in the Arctic., and experience sketch painting. 
Anne Yoncha
Assistant Professor of Art
Located at the Linscheid Library on March 23, 2023 form 1:00-2:30 pm. Refreshments provided. 
Event Location
Linscheid Library