10:00 am 2022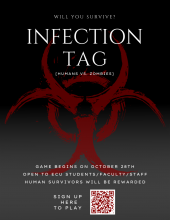 The game of tag where all players begin as Humans, except one. The "Original Zombie" is chosen at random. The objective for the Original Zombie is to feed on (tag) as many Humans as possible and infect them with the Zombie virus. The newly infected Zombies must feed (tag a Human) every 24 hours or they starve to death and are out of the game. 
Those who survive will be rewarded.
The game begins October 28th and ends on Halloween Night!
Open to all ECU Students/Faculty/Staff, sign up by
Thursday, October 27th at 4:00pm
Red Bands available for pick up from 10am-2pm on Friday, October 28th 
at the Wellness Center (UC 2nd Floor)
Event Location
East Central University