10:00 am 2019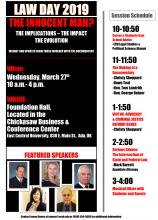 Law Day will be held 10 a.m.-4 p.m. in the ECU Foundation Hall inside the Chickasaw Business and Conference Center on ECU's campus. The topic is "The Innocent Man? The Implications - The Impact and The Evolution, Insights and updates from those involved with the documentary.
10-10:50 a.m. is Career & Graduate/Law School advice from teh ECU Legal Studies and Political Science Alumni
11-11:50 a.m. is The Making of a Documentary featuring Christy Sheppard, Dawn Teal, Hon. Tom Landrith, and Hon. George Butner
1-1:50 p.m. is Victim Advocacy & Criminal Justice Reform Issues with Christy Sheppard
2-2:50 p.m. is Serious Crimes: The Intersection of State and Federal Law with Appellate Attorney Mark Barrett
3-4:00 p.m. is a Mocktail Mixer with Students and Guests.
Please contact Jenna Owens by email or at 580-559-5603 for additional information.