5:00 pm 2023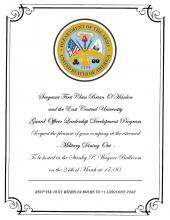 Sergeant First Class Brian O'Hanlon and the East Central University Guard Officer Leadership Development Program Request the pleasure of your company at the esteemed
Military Dining Out
To be hosted in the Stanley P. Wagner Ballroom
on the 24th of March at 17:00.
RSVP via text within 24 hours to +1 (580) 665-7942
The dress code for the event will be formal attire (tuxedo, suit, dress, etc.).
To reserve a seat, please text the number listed within the invitation or below. A $30 fee will be charged per seat in order to allow any number of attendees to RSVP. 
For those who have not experienced this event, in general, the Dining Out is a banquet in which a formal military atmosphere is maintained, together with an air of tradition and fellowship. It is customary during these functions to honor those who have made outstanding contributions to the service, to hear an address by a distinguished guest, and to present a series of toasts. The Dining Out is comparable to a Military Dining In as far as its purpose and function are concerned. It, however, is exclusive to military members only.
Event Location
Stanley P. Wagner Ballroom