2:00 pm 2023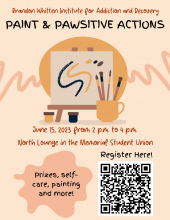 Paint and Pawsitive Actions is an interactive painting event with the Brandon Whitten Institute for Addiction and Recovery. Get ready to destress and paint with PAWS-itivity from 2 p.m. to 4 p.m. in the North Lounge at the Memorial Student Union. PAINT, SELF-CARE,  PRIZES and PAWSITIVE VIBES. 
Register on ZipSurvey: https://www.zipsurvey.com/LaunchSurvey.aspx?suid=93398&key=602F3028
For more information, email Trevor McCane at trelmcc2@ecok.edu or call (580) 559-5161.
Event Location
North Lounge (Memorial Student Union)