2:00 pm 2023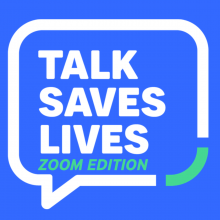 Talk Saves Lives Zoom Edition 
The ECU Campus Suicide Prevention Grant Program will be hosting a "Talk Saves Lives: Zoom Edition" presentation on Thursday, May 25, 2023, at 2 p.m. to train East Central University faculty and staff. One (1) hour of CEUs will be offered for the completion of this training. 
Registration Link: https://www.zipsurvey.com/LaunchSurvey.aspx?suid=93338&key=71890BCF
For more information, contact Trevor McCane at trelmcc2@ecok.edu or (580) 559-5161. 
Event Location
East Central University