3:30 pm 2018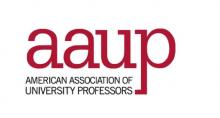 The newly formed chapter of the AAUP at ECU is pleased to host a VISIONS AND GOALS public forum with Dr. Carol Linder, Provost and VPAA.
This event is held from 3:30 p.m. to 4:30 p.m. in the Foundation Hall (Center Room) in the Chickasaw Business & Conference Center.
All are welcome to attend. Refreshments will be provided.