10:00 am 2022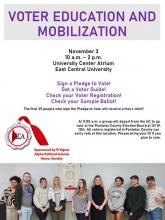 Thursday, November 3 from 10 a.m. to 2 p.m. in the University Center Atrium, Pi Sigma Alpha is sponsoring a Voter Education and Mobilization booth. The booth will feature non-partisan voter guides, sample ballots, information on early voting, and an opportunity to confirm voter registration. Pi Sigma Alpha is the national political science honor society.
The first 25 people to sign the Pledge to Vote will receive a free t-shirt.
At 11:00 a.m. a group will depart for the Pontotoc County Election Board office at 131 W. 13th where people who are registered to vote in Pontotoc County can early vote. Please bring your ID if you plan to vote.
Event Location
Bill S. Cole University Center