East Central University's Global Education office promotes, provides, and facilitates academic and cultural exchange opportunities for the students and faculty to develop global awareness and cross-cultural competencies through participation in programs on campus at ECU and throughout the world.
Why Study Abroad?
In order for ECU students to compete successfully in today's multicultural world, an understanding of different ethnic groups and their cultures, philosophies, and traditions is essential. ECU's Global Education programs provide students with first-hand multicultural experiences that enrich their education by:
Semester-long and short-term Study Abroad opportunities
Exchange programs with ECU's sister-institutions in France, Spain, Russia, Germany, and other countries
Educational programs with partner Universities throughout the world
Assistance in obtaining study abroad scholarships through the ECU Foundation, the Brad Henry International Scholar Program, Linda Ainsworth Scholarship, and other programs
Forms
Study Abroad Program Application Form (PDF)
Study Abroad Release Form (PDF)
Study Abroad Travel Expenses (PDF)
Announcements and Events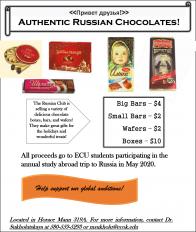 Click on thumbnail to view the full-sized flyer!

CONTACT

Dr. Mara Sukholutskaya, Director
Horace Mann, Room 319A
East Central University, PMB E-1
1100 E. 14th Street
Ada, OK 74820
580-559-5293
580-559-5345 (fax)
msukholu@ecok.edu