8:00 am 2022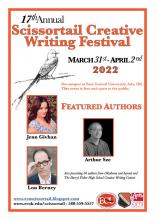 Scissortail Creative Writing Festival returns in-person
XI. 9:00 – 9:50 Estep Auditorium
Jessica Isaacs: Seminole State College
The Deer in the Corn
Neal Ostman: Colleyville, Texas
Earthman - Boondocking

XII. 9:00 - 9:50 Regents Room
Markham Johnson: Tulsa, Oklahoma
Dear Dreamland, and other poems
Sally Rhoades: Albany, New York
Greeted by Wildflowers

XIII. 10:00 – 10:50 Estep Auditorium
Maureen DuRant: Lawton, Oklahoma
I Knew Better, but Nevertheless
Mark Allen Jenkins: Houston, Texas
Zanesville & Western

XIV. 10:00 – 10:50 Regents Room
Chris Ellery: San Angelo, Texas
Nine Nights in Pieria
Amy (Huichun) Liang: University of Missouri
Autumn, Presencing – a bilingual poetry reading

XV. 10:00 – 10:50 North Lounge
Shaun Perkins: Locust Grove, Oklahoma
Schooled
John Morris: Cameron University
The Strongest Song, and other poems

XVI. 11:00 – 12:15 Estep Auditorium
Heather Levy: Oklahoma City, Oklahoma
from Walking Through Needles
Haesong Kwon: Louisville, Kentucky
New and Selected poems
Vivian Nida/Terri Cummings: Oklahoma City
Two Voice Poems

XVII. 11:00 – 12:15 Regents Room
Sarah Webb: Burnet, Texas
The Door Into Night
Walter Bargen: Ashland, Missouri
Transcendental Goat Philosophy/You Wounded Miracle
Daniel Marroquin: Killeen, Texas
Coach and Camilla

XVIII. 11:00 -12:15 North Lounge

Bill McCloud: Rogers State University
A Charming Little Hurt
Carol Coffee Reposa: San Antonio, Texas
To Berlin and Back: A Covid-19 Long Shot
Phil Morgan: Blanchard, Oklahoma
Where the Winter is Purple and Gray

*** Lunch ***

XIX. 2:15 – 3:45 Estep Auditorium
Robert L. Dean, Jr: Augusta, Kansas
Pulp and After-Pulp
Sharon Martin: Oilton, Oklahoma
The Courage to Speak
Marc DiPaolo: Southwestern Oklahoma State U.
from Fake Italian
Richard Dixon: Oklahoma City, OK
Paul Simon Blows Away the Room

XX. 2:15 -3:45 Regents Room

Hank Jones: Tarleton State University
After Waking in Darkness
Abigale Mazzo: University of Tulsa
The Affair
Todd Fuller: University of Oklahoma
64 Steps of Doom
Christopher Soden: Dallas, Texas
Bones to Light

XXI. 7:00 – 8:30 pm Estep Auditorium
Featuring: Arthur Sze
Recognition of Undergraduate Writers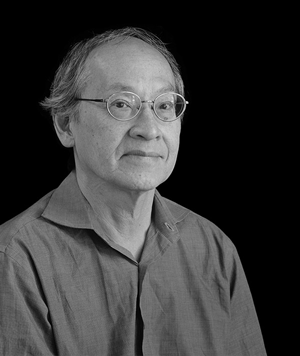 ARTHUR SZE
Sze is a poet, translator, and editor. He is the author of 11 books of poetry, including "The Glass Constellation: New and Collected Poems;" "Sight Lines," which won the 2019 National Book Award for Poetry; "Compass Rose," a Pulitzer Prize finalist; "The Ginkgo Light," selected for the Mountains & Plains Independent Booksellers Association Book Award in Poetry and a PEN Southwest Book Award; "Quipu;" "The Redshifting Web: Poems 1970-1998," selected for the Balcones Poetry Prize and an Asian-American Literary Award; and "Archipelago," selected for an American Book Award.
Other books include "River River," "Dazzled," "Two Ravens," and "The Willow Wind" He has also published "The Silk Dragon: Translations from the Chinese," selected for a Western States Book Award, and edited "Chinese Writers on Writing." "Pig's Heaven Inn," a bilingual, Chinese/English selected poems, was published in Beijing.
His poems have appeared internationally and have been translated into 13 languages. Sze served as Chancellor of the Academy of American Poets from 2012 to 2017 and was elected to the American Academy of Arts and Sciences in 2017. He is a professor emeritus at the Institute of American Indian Arts and was the first Poet Laureate of Santa Fe, New Mexico, where he lives.
Event Location
East Central University