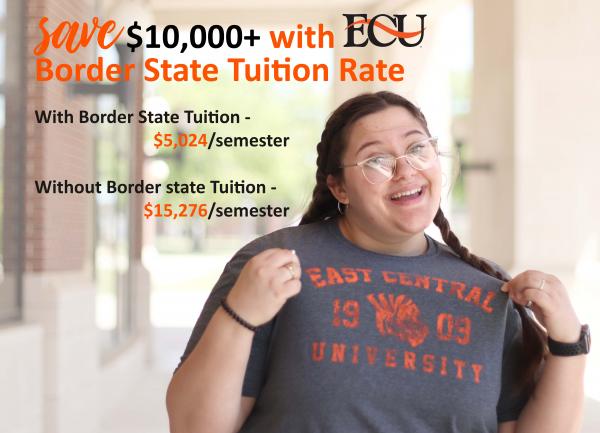 East Central University provides in-state tuition costs for students from bordering states! 
First-time East Central University undergraduate students will receive a 100% nonresident tuition waiver for the first two semesters including Fall/Spring or Spring/Fall. This applies to the non-resident portion of the tuition only. Resident tuition and fees still apply. First year students must live on campus unless they are 21 or older.
Summers will be grade point neutral, so all non-resident tuition will be waived for summer.
Subsequent semesters, students may continue to receive non-resident tuition waivers if they maintain a CGPA of 2.0 or above and successfully complete 24 hours each award year. Students with less than 31attempted hours must have a 1.70 CGPA and successfully complete 24 hours each award year.
How Much Does it Cost?
Out-of-State Tuition
Tuition & Fees (15 hours)  - $8,775

Books/Supplies - $795

Room/Board - $3,820

Transportation - $627

Personal - $1,259
TOTAL/SEMESTER: $15,276**
Border State Tuition
Difference between in-state & non-resident: -$4,695

Pell Grant (EFC of 0) - $3,247

Foundation Scholarships - $750

Work/Work study - $2,560
TOTAL/SEMESTER: $5,024*
*Based on 15-hours semesters. Costs are estimates and may vary based on classes, room, and meal options.
**This is an estimate of scholarships. Actual awards will vary based on individual circumstances.
*Freshmen must live on campus to qualify for Border State Tuition rates, unless over the age of 21.
Scholarship Details
All students must complete the FAFSA (Free Application for Federal Student Aid) beginning Oct. 1 for the next academic year.
All fees and meal plans are not included with tuition or room waivers.
All scholarships are not automatic and are awarded based on the availability of funds.
You may be eligible for Freshman, Transfer, and Foundation Scholarships if you complete the application by February 1.
Each student that qualifies for a scholarship will be sent a letter and contract that he/she must fill out and submit to accept the award.
Please be aware that although you may qualify to apply for a specific scholarship, it is not assured you will be offered that scholarship. Due to the limited number of scholarships and the high number of applicants each year, the scholarship process is very competitive.
For information on Academic Scholarships, please contact the Office of Recruitment at 580-559-5628.