East Central University provides several convenient options to assist students in making payments toward any outstanding balance.  This can be paid online or in person at the Bursar's Office by the established due date of each semester.  If the student is unable to pay the total outstanding balance by the due date, that student must sign up for a payment plan to secure their enrollment.
You can learn more about payment plans at this link.
Online Payments
Most students will find everything they need to pay their bills and set up payment plans online at https://myecu.ecok.edu/ with a credit card, debit card, or electronic check.  Your payments will be processed and applied to your account within 2 business days.
To pay online simply log in to MyECU, navigate to the STUDENT tab, then select Billing and Payment Information from the menu on the left.  From there, click the link that says "Go to the Student Finance Center."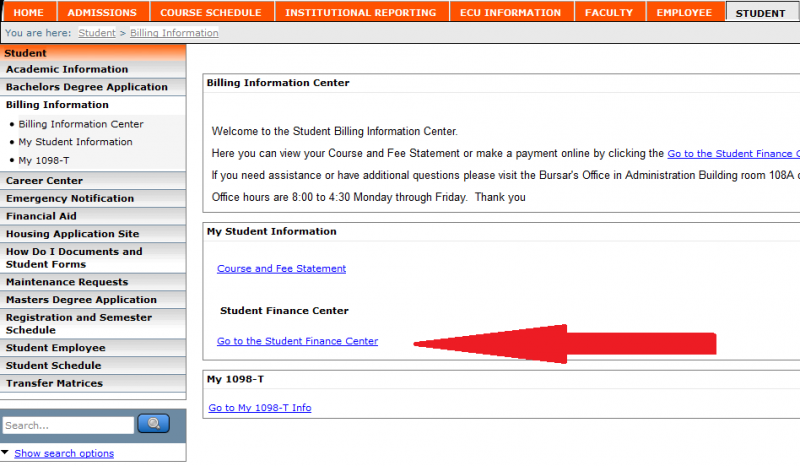 After a few moments, you will be redirected to CashNet where your current balance will be displayed.  Click "Pay Now."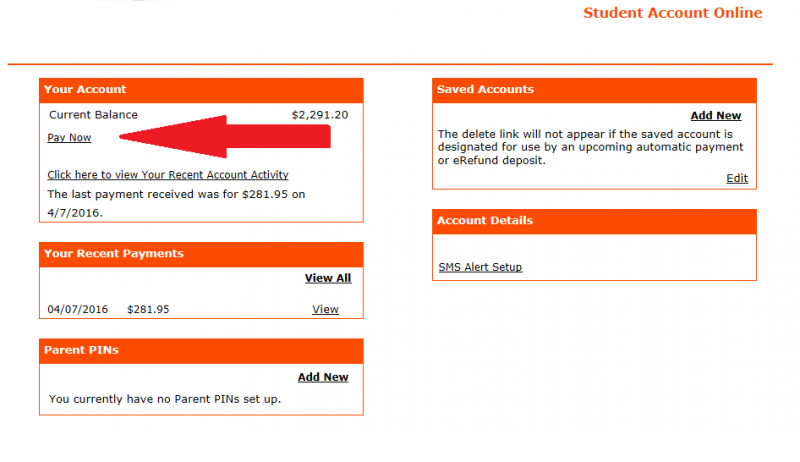 You will be presented with a screen displaying the totals for different billing categories.  If you wish to pay the full balance, simply leave these numbers as they are and click "Checkout" at the bottom as seen in this example.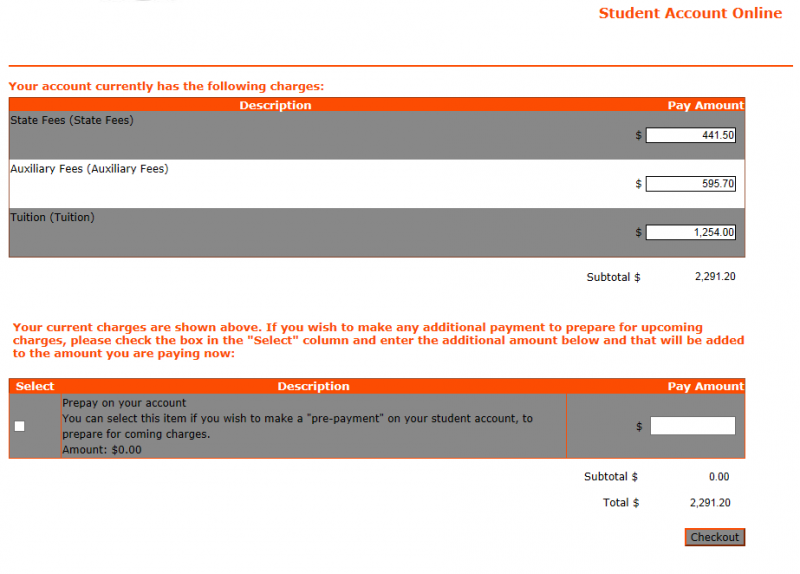 If you wish to pay a different amount, change the numbers in the category fields to indicate the amounts you want to pay, then click "Checkout."  Using the previous example, this student could not pay the total of $2,291.20 but wanted to make a partial payment of $1,000.  To do this, the student put the number "0" in two of the available fields and entered $1,000 under tuition. 

From here, you will be asked for your payment information.  You may pay with no additional charges using your checking account by entering your bank account number and that bank's routing number.  These numbers can easily be found at the bottom of a check attached to a checking account, or you may contact your bank to request this information.
You may also pay with a credit or debit card.  When using a card, a 2.75% (4.75% for cards issued outside the United States) convenience fee will be assessed at the same time you make your payment.
Mail-in Payments
Students may also make payments via postal mail using a personal check pre-printed with a name and valid US mailing address, money order, or cashier's check.  Please make these payable to East Central University, and address the envelope to:
East Central University
1100 E. 14th Street
PMB G-8
Ada, OK 74820-6999
In-Person Payments
Students may also pay in person in the Bursar's Office, Administration Room 108 with checks, cashier's checks, money orders, or cash only.  ECU does not accept credit or debit cards in person for student account payments.
Electronic Funds Transmission (EFT) or Wire
ECU can also accept electronic funds transfers (EFT) for making payments to your account.  When making a payment using this method you must be certain to include identification information other than your name.  You will need to make arrangements with your bank or other preferred financial institution to initiate the transfer, and you will need to advise them of your ID information and to include it on the transmittal.  Your bank will also need certain bits of information from us.   You can find all the information they may require on our ECU Wire Info Sheet (pdf).
Refund Policy
East Central University applies all funds (payments, scholarships, federal and state aid, etc.) to the student's billing account. If these transactions create a credit balance after all charges are paid in full, the student will receive a refund. 
Refunds will be made according to a regular schedule beginning with the first disbursement of financial aid.  This is typically the fourth week of Fall and Spring semesters and the second week of Summer semesters.  After the first disbursement, refunds will be made every Tuesday and Friday through the end of the term.  Refunds are processed after 1 pm on the day they are made.
PLEASE NOTE: If you find that after having enrolled that you will not be attending classes, you must cancel your enrollment in writing immediately.
Request for cancellation should be processed in person or mailed to ECU Office of Admissions and Records. The request may also be FAXED to (580) 559-5432 or e-mailed to asimmons@ecok.edu.  ECU will not cancel an enrollment due to non-payment. Failure to withdraw from classes will result in money owed to the University for tuition and fees, even though not attending.