East Central University will be holding its first virtual ceremonies December 12, 2020.
December graduates at 10 a.m.
May graduates at 2 p.m.
Both virtual ceremonies will premiere on ECU's Facebook page. To view the ceremonies, visit www.facebook.com/ECUTigerUpdate at the appropriate times. Friends and family members can participate in the interactive broadcasts when their graduates appear in the videos.
Commencement programs are available for digital download below. A printed version will be available to each graduate. Both 2020 graduating classes will be invited to participate in the next available traditional, in-person commencement exercise.
December 2020 Commencement Program
The ceremony includes an address by the ECU President and a commencement speaker, and are approximately one and a half hours long. For more information about commencement, please view the guidebooks and instruction links.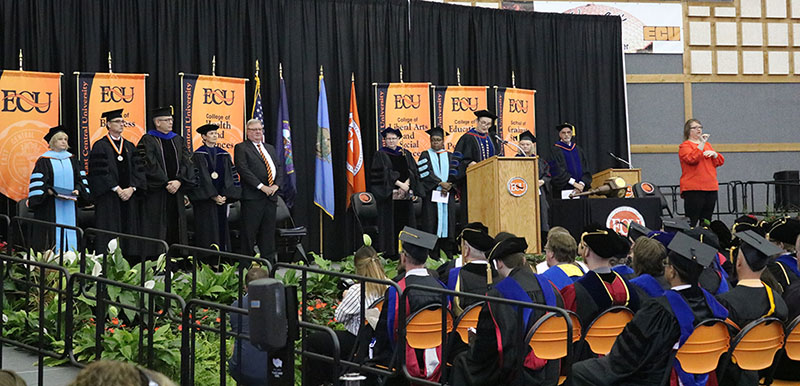 2020 Commencement
Saturday, December 12, 2020 (VIRTUAL)
---
Both May and December 2020 ECU Graduates will be eligible to walk during the next ECU Commencement Ceremony.
 
---

How to Order Official Transcripts
Login to MyECU.ecok.edu.

Click on your "Student" tab at the top right.

Click on "Transcript Requests" on the bottom left side of the screen.

Click on "Request Official Transcript" link.

Click on "Begin Order" at the top of the screen.

Follow instructions to complete your order.
If you want a transcript with your degree on it, make sure to click the box "Hold for degree to be posted:  Spring Semester" or "Hold for degree to be posted:  Summer Semester".