Have you been hacked?
You must be on guard!  Keep a close eye on your accounts: credit card, bank, utilities, medical...everything!  Here are some clues that your personal information may have been compromised:
Bank withdrawals that you know you didn't make

Debt collectors call you concerning debts that are not yours

Your health plan won't cover you because of a condition you don't even have
Your credit report shows accounts you haven't opened

The IRS notifies you of more than one tax return filed in your name

There is a decrease in the amount of mail you receive

You are notified of a data breach where you have an account
Who would do this?
Identity theft is skyrocketing, especially for college age students.  Let's face it...there are some mean, greedy, stealthy people out there who would jump at the chance to take over your identity, wreck your credit, and steal your money!
Learn all you can about protecting your identity and accounts to outsmart the would-be thieves.  Here are some tips to help keep your personal information safe before they can get their hands on it! 
Keep it secret.
The best way to keep your identity secure?  Don't make it easy for them!  If you live in a community setting such as a dorm, or a shared apartment, keep ALL your personal papers in a locked, secure location.  A fireproof lockbox is reasonably inexpensive and will be well worth the peace of mind.
Personal papers would include, your social security card, health insurance cards, and transcripts.  Anything that has your social security number, address, or birthdate listed should not be available for prying eyes to see.  To be really cautious, you should never carry your social security card in your wallet unless you know you will need to provide it...which is very rare. 
Now that you have your paper items under lock and key...let's review good practices to keep your on-line identity private.  Never, ever give your passwords to anyone.  If you have a hard time remembering them then write them down...and put them in that lock box!  Always use a secure site on the internet for any transaction dealing with your personal information.  These sites always begin with https://.  The "s" indicates that it is a secure site.  Otherwise...it's not secure! 
Search and Destroy.
Make sure to shred any papers that have personal information listed as identity thieves are notorious for dumpster diving!  Shred any papers or mail that will help them steal your identity. 
The DOs.
Check your bank and credit card accounts regularly – at least once a week.  When checking your bank account, make sure all deposits were credited to your account and all withdrawals/debits/checks are transactions that you completed.  Contact your bank immediately if you sense that something is wrong. 
As shopping on-line has become so popular, it is very important that you check your credit card for erroneous charges often.  Again, if something is amiss, contact the credit card company.  Today, two-step (two-factor) authentication is offered to insure that YOU are the holder of the card...this practice helps to secure your information.  Sign up for this service where ever you have an account if it is offered.  Some credit cards even contact you when online purchases are made...you might want to sign up for this service also.  Also, remember to only shop on secure sites, https://.
If you want to remove your name from pre-approved credit card and insurance offers, visit www.optoutprescreen.com. You can "opt out" from these offers for five years, or permanently!  Tired of getting unsolicited phone calls, too?  Visit Consumer Information of the Federal Trade Commission to add your phone number and address to the "do not call list" and to disable direct marketing mail.  Removing your name from these lists might not protect your identity, but it may help reduce your stress levels! 
The more proactive you are in safe guarding your personal information, the more effective you will be in keeping your identity and personal assets secure.  
The DO NOTs.
Do not give out personal information over the phone.  If the call seems legitimate, ask them for a number to call them back.  If they are up to no good, they will usually hang up on you.   Don't carry your social security card in your wallet...store it in a secure location.  Never click on a link in an email even if it LOOKS like it originated from a secure source, such as your bank.  Open a new browser page and log in to your usual account website or call the bank to follow up on the email.  When setting up passwords, don't use obvious words like your name or birthdate.  Make the password hard!   Also, don't use the same password for all your secure sites such as banks, credit card, or utility companies.  Yes, it's hard to remember all those passwords!  So, write them down...and put them in that lock box! 
Don't post on social networks that you are going on vacation!  An unoccupied house is an invitation to thieves as well as identity thieves that will target your mailbox.  Post those vacation pictures AFTER you return from your trip.
Deal with it.
If you believe your personal information has been compromised, contact the Federal Trade Commission to learn steps to recover from identity theft.   It is also wise to contact one of the three major consumer reporting agencies and request that a fraud alert be placed on your account.   Then, if someone tries to open an account in your name the fraud alert will stop the process. 
File a police report.  There will need to be a record – documentation - of the incident.  Contact all your creditors and close those accounts that have been compromised or opened without your permission. 
Yes...this is a hassle and no one deserves to have to deal with this...but it happens.   Take a deep breath and get to work cleaning up your credit and taking back your identity.  Learn from the experience, and next time be one step ahead of the would-be thieves. 
Need a roadmap to help insure you have taken all the right steps to recover from identity theft?  Below is a checklist to guide you through the process.  Log on to CashCourse to access the interactive version.  You will find it under "Financial Tools" and then "Worksheets".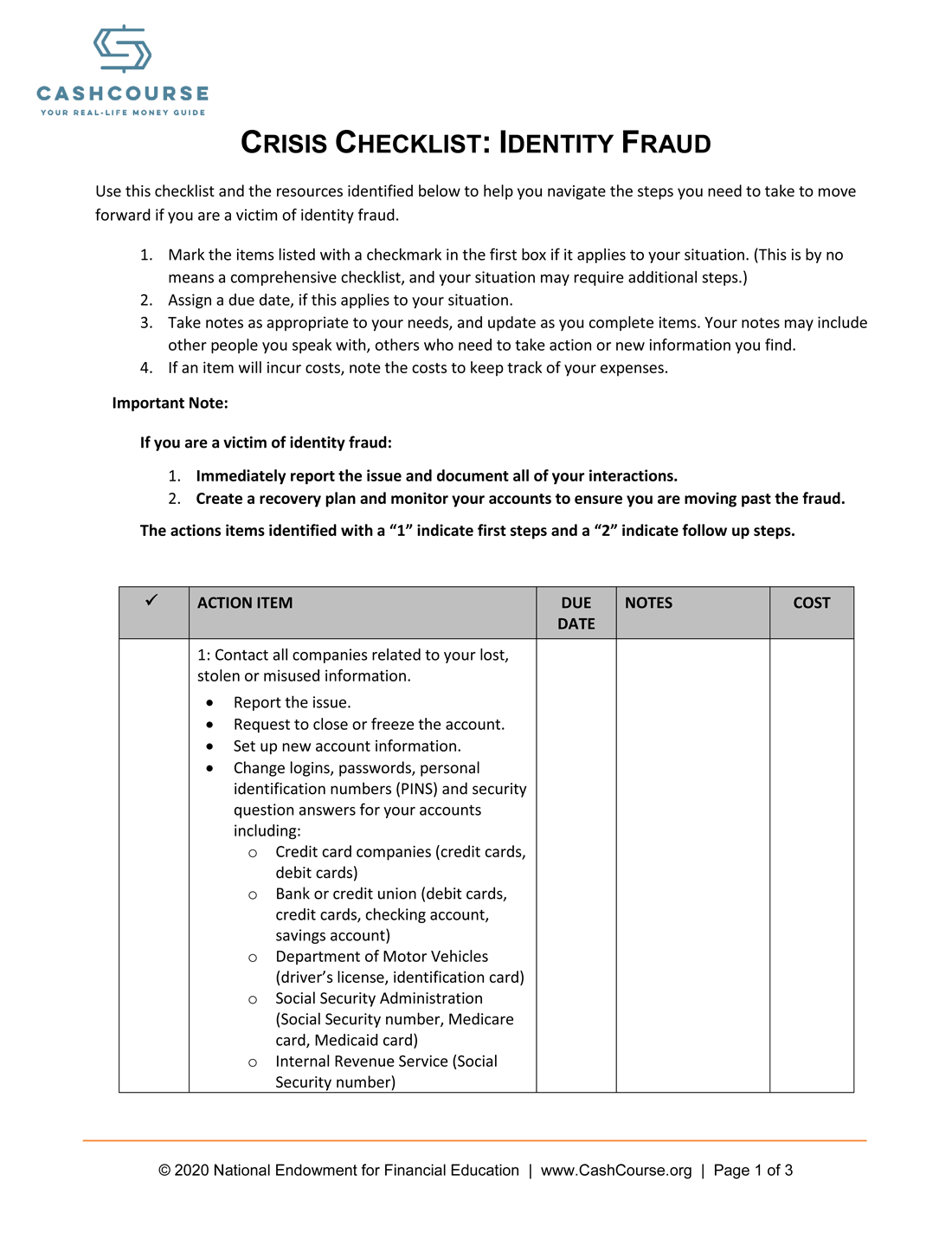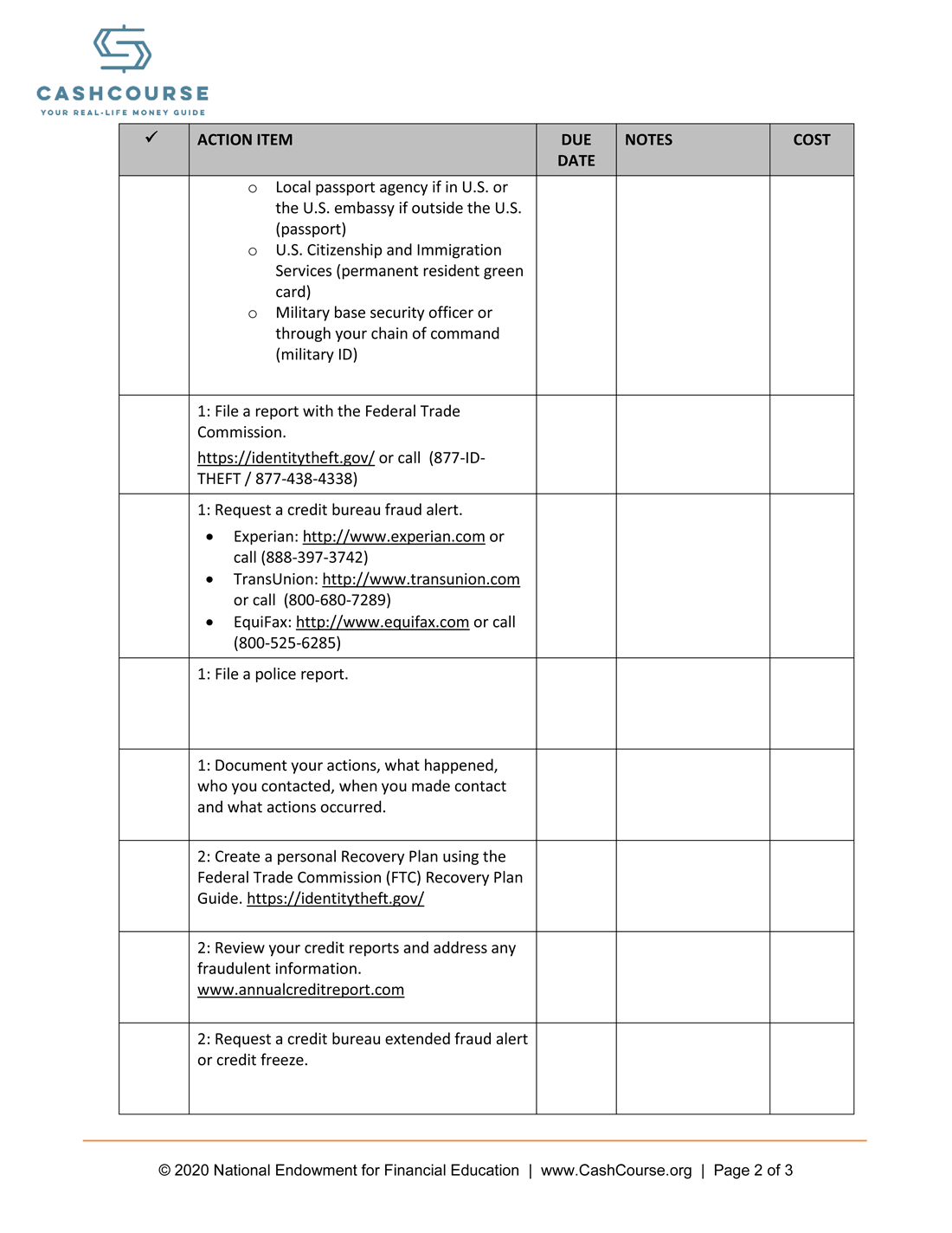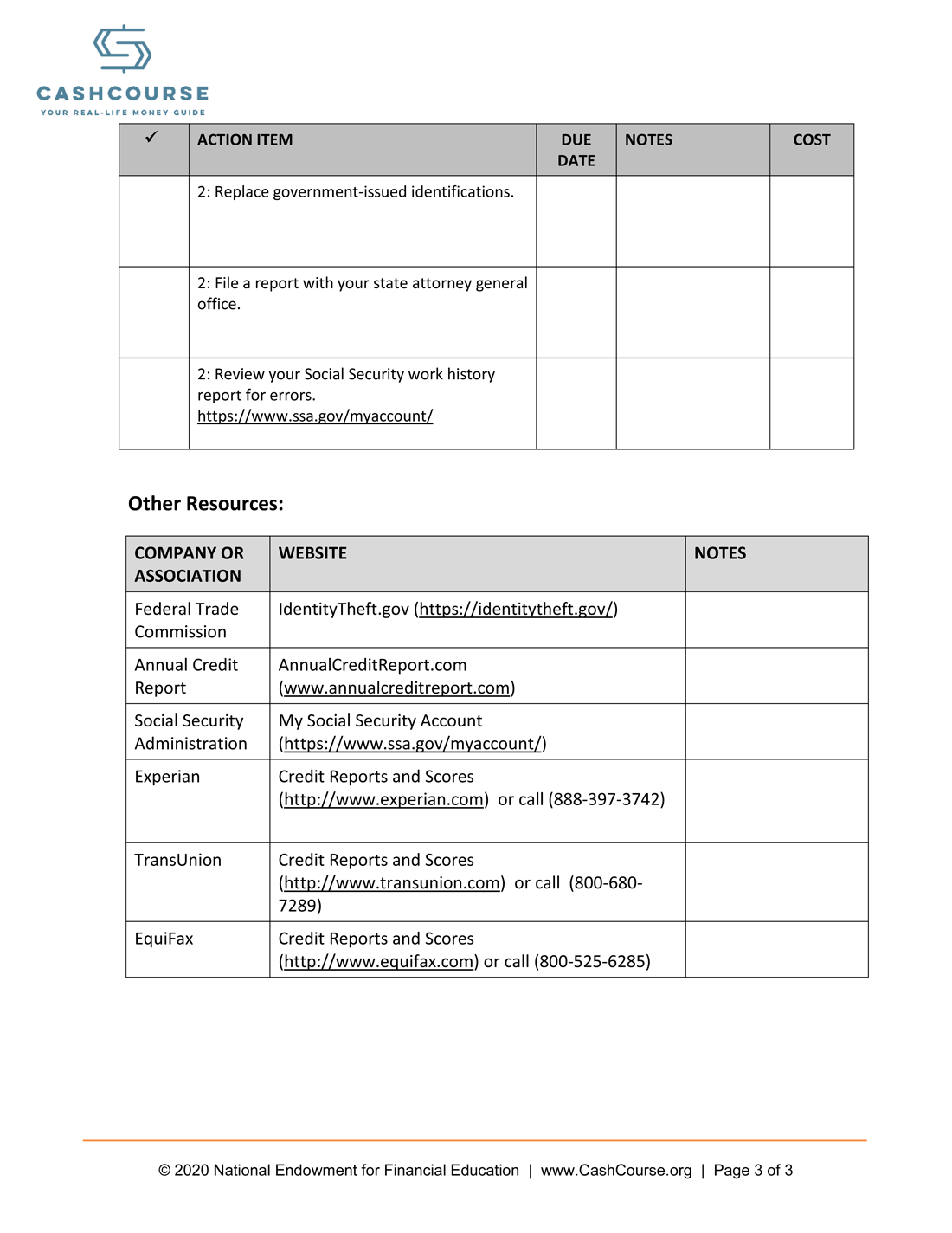 This information presented in cooperation with Oklahoma Money Matters, the financial education outreach initiative of the Oklahoma College Assistance Program (OCAP),  an operating division of the Oklahoma State Regents for Higher Education.  For more information about OKMM, visit www.oklahomamoneymatters.org or call 1-800-970-OKMM.