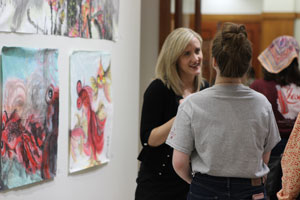 ECU's POGUE ART GALLERY
The Pogue Art Gallery is located within the Hallie Brown Ford Fine Arts Center, adjacent to the Ataloa Theatre. The gallery is one of the main focal points within the Fine Arts Center and it is also the terminal point of the Ada Arts District. This space hosts temporary exhibits throughout the year, usually featuring the work of contemporary artists from the surrounding region or historical artifacts from private collections. These exhibits provide opportunities for our students and members of the community to experience and examine the work of diverse artists and cultures.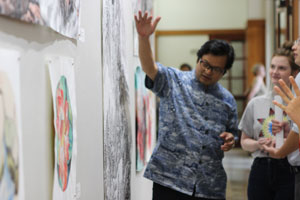 The gallery has approximately 900 square feet of exhibition space, 75 linear feet of wall space, adjustable track lighting, an open floor plan, and windows overlooking Centennial Plaza and the Inasmuch Sculpture Garden. The gallery is open to the public every weekday that the University is in operation from 8:00 a.m. to 5:00 p.m. and during special events in the Fine Arts Center, including performances. The space may be reserved for events by contacting the director of the Pogue Art Gallery.
Closure Policy
We welcome all visitors to the Pogue Art Gallery to view temporary exhibitions throughout the year. From time to time, the gallery is used for private events and may be closed to the public. If the gallery is closed for a private event during regular business hours (weekdays from 8:00 a.m. to 5:00 p.m.), notice will be posted on the doors. Those notices will also indicate when the gallery will be reopened to the public. In the meantime, visitors are welcome to view the University's permanent collection of art throughout the Hallie Brown Ford Fine Arts Center, Linscheid Library, the Chickasaw Business and Conference Center, and the Bill S. Cole University Center. Visitors who wish to confirm times the gallery will be open to the public may contact the Director of the Pogue Art Gallery.
Exhibition Proposals
Proposals for solo or group exhibits (any medium) in the Pogue Art Gallery are accepted on a rolling basis and should be submitted to the director of the Pogue Art Gallery electronically. Complete submissions will include:
An exhibition proposal.
An artist statement.
At least 10 images (submit as a PDF, link to an electronic dropbox, or link to a website).
The gallery schedule is completed for at least two years in advance and exhibits are on view for an average of four to six weeks. Artists are responsible for all shipping costs. ECU provides wall-to-wall insurance coverage for works of art that are on view in the Pogue Art Gallery for the duration of the exhibit.