About The Institute
The Institute for Math and Science Education (IMSE) was initiated in the summer of 2017. As a division of the education department at East Central University, the institute is designed as a collaborative opportunity to partner with experts in the fields of math, science, technology, and education. The Institute for Math and Science Education is led by a director as well as members of an advisory board who meet regularly to ensure the effectiveness of the program.
IMSE Training
The Institute for Math and Science Education is excited to offer:
- inquiry activity for students of all ages.
- scheduled professional development opportunities for educators in the areas of science, math, engineering, and technology (STEM).
- STEM workshops designed specifically for each school's needs.
- Individual training for beginning teachers.

Visit our STEM lending library to reserve your equipment.
---
Join us in learning how to integrate STEM in rural areas!
Follow and check out upcoming events here.
Click on logo below for more information on a summer time paid research experience for teachers.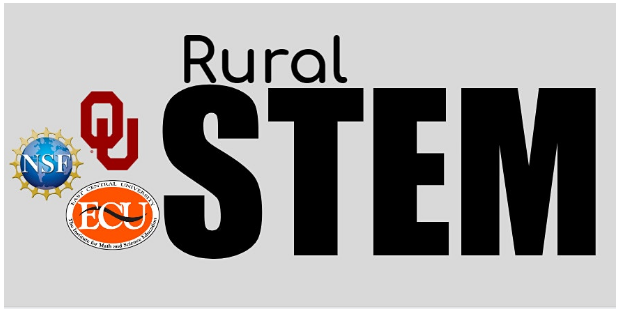 Our Vision
The Institute for Math & Science Education at East Central University will positively impact the quality of math and science education within our local schools and will produce top quality math and science teachers who are involved with our program.
Our Mission
1. To provide quality professional development in math education, science education, and technology integration (STEM). 
2. To provide schools across the state the support necessary to ensure excellence in math and science education as well as technology integration.
3. Provide ECU undergraduate students majoring in math education and science education with innovative teaching strategies.
4. Encourage/recruit top high school students to consider the areas of math and science education at our university.
5. Assist with programs that are currently in place in the ECU education department STEM program.

CONTACT
If you are interested in attending
one of our workshops, please
call or send us an email.
David Thornton, PhD, Assistant Professor
Director Institute for Math and Science Education
580-559-5338
dthorntn@ecok.edu