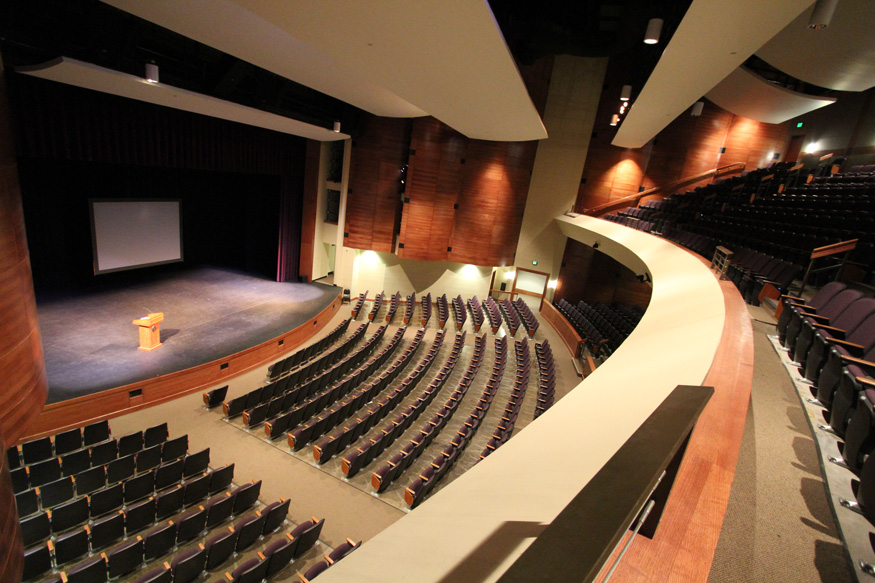 EVENT TICKETS
Below is a listing of upcoming events scheduled for ECU's Hallie Brown Ford Fine Arts Center. These events take place inside the beautiful Ataloa Theatre in the heart of the HBFFAC. Tickets may be purchased online here.

"Mercury: A Musical Celebration of Freddie Mercury"
Sept. 24, 2019 7:30 p.m.
Ataloa Theatre
Hallie Brown Ford Fine Arts Center
Freddie Mercury, the lead man that made Queen world-famous, now has an incredible show dedicated to his music.  Yet another amazing production created and hosted by rock and roll pioneer and radio legend, Jack Starr.  This traveling two-hour, Vegas-style show stars one of the World's top counter-tenors, Terry Barber.  There is a theatrical aspect, entertaining history and setting the scene for the best delivery of the art and the story behind Freddie's music. With a lighting and backdrop scheme reminiscent of Freddie's personality, this will be a spectacle. Some of the songs covered are "We Will Rock You", "Radio Ga Ga", "We Are the Champions", "Barcelona", "A Kind Of Magic", "Under Pressure", "The Great Pretender", "Another One Bites The Dust", "The Show Must Go On", "Somebody to Love", "Who Wants to Live Forever", and of course "Bohemian Rhapsody".

"Pete the Cat"
Nov. 18, 2019 10 a.m. & 6 p.m.
Ataloa Theatre
Hallie Brown Ford Fine Arts Center
For Pete the Cat, life is an adventure no matter where you wind up. So the minute the groovy blue cat meets The Biddles, he gets the whole family rocking. That is, except for young Jimmy Biddle, the most organized second grader on Planet Earth. But when Jimmy draws a blank in art class during the last week of school, it turns out Pete is the perfect pal to help him out. Together, they set out on a mission to help Jimmy conquer second grade art, and along the way, they both learn a little something new about inspiration. Join Jimmy and Pete on an adventure of friendship, all the way to Paris and back in a VW bus!

"Homegrown: Comedy with Jen Kober"
March 5, 2020 7:30 p.m.
Ataloa Theatre
Hallie Brown Ford Fine Arts Center
Part stand-up comedian and part storyteller (with a dash of rock and roll), Jen Kober is known for her uniquely musical, uproarious live performances, along with her work in TV comedies like Curb Your Enthusiasm, The Middle, and Anger Management. Always the entertainer, Jen began her comedy career as a child, performing made-up skits for her friends and family. In adulthood, her stage career blossomed through original, food-related song parody performance. In 2016, Jen won NPR's Snap Judgement Comedic Performance of the Year award for her Girl Scout Cookie story, which went viral upon its release earlier that year. In her live shows, Jen captures her audience's attention in a phenomenally funny, multifaceted performance. Contains adult content. 

"Between Memories"
Oct. 10, 11 & 12, 7:30 p.m. 
Herman Chalmers Theatre
Hallie Brown Ford Fine Arts Center
"Between Memories" is a two-act play written in the spring of 2019, as a senior project, by ECU Alumni Kelsey Williams. The play takes place in a small town somewhere in Oklahoma. Although their reasons are different, Ruth and her youngest sister Eliza find comfort in knowing that their mother, un-liked by most of the town folk, has passed away. Viewing pictures from the past during "family night" at the funeral home, the two girls are reminded of the horrific lifestyles both of their parents chose for them. Eliza is confused as to why Ruth can be so forgiving, and Ruth starts to see a side of Eliza that is much like their own mother. Even Marty, the funeral home director, has words with Eliza and questions her ability to love. Once the girls leave the funeral home, Eliza's vindictive, yet humorous side is escalated when a childhood neighbor crosses her in the local bar. By the end of the play, both girls have an understanding of how some of their childhood memories have made them who they are today.

"The Nerd"
Nov. 21, 22, & 23, 2019 7:30 p.m. 
Herman Chalmers Theatre
Hallie Brown Ford Fine Arts Center
Ever had a house guest overstay a welcome? Willum Cubbert can sympathize. A stranger named Rick Steadman saved his life after he was seriously wounded in Vietnam, and although the men have never met, Willum feels he owes Rick a huge debt. So, when Rick shows up on Willum's doorstep, Willum welcomes him with open arms! Problem is, Rick's behavior is ... unorthodox, to say the least. When Rick's antics threaten Willum's job, Willum and his friends try to come up with a hilarious plan to get rid of him. Larry Shue's 1980 farce is full of twists, turns, and laughs. You won't want to miss this one!

"The Laramie Project"
April 16, 17 & 18, 2020
Herman Chalmers Theatre
Hallie Brown Ford Fine Arts Center
In October 1998, a 21-year-old student at the University of Wyoming was kidnapped, severely beaten, and left tied to a fence in the middle of the prairie outside Laramie, Wyoming. His bloody, bruised, and battered body was not discovered until the next day, and he died several days later in an area hospital. His name was Matthew Shepard, and he was the victim of this assault because he was gay. Moisés Kaufman and fellow members of the Tectonic Theater Project made six trips to Laramie over the course of a year and a half, in the aftermath of the beating and during the trial of the two young men accused of killing Shepard. They conducted more than 200 interviews with the people of the town. Some people interviewed were directly connected to the case, while others were citizens of Laramie, and the breadth of the reactions to the crime is fascinating.

"25th Annual Putnam County Spelling Bee"
Feb. 14, 15 & 16, 2020, 7:30 p.m. 
Ataloa Theatre
Hallie Brown Ford Fine Arts Center
An eclectic group of six mid-pubescents vie for the spelling championship of a lifetime. While candidly disclosing hilarious and touching stories from their home lives, the tweens spell their way through a series of (potentially made-up) words, hoping never to hear the soul-crushing, pout-inducing, life-unaffirming "ding" of the bell that signals a spelling mistake. Six spellers enter; one speller leaves! At least the losers get a juice box.
"ECU Showtime Blasts from the Past"
Nov. 8, 9, 2019, 7:30 p.m.
Dorothy Summers Theatre
Science Hall
 
This blasts from the past ECU Showtime show is one that you won't want to miss! Some of the songs include "The Sound of Silence", "Stairway to Heaven", and "Renegade". Tickets are on sale now!

CONTACT
Dr. Brad Jessop
School of Fine Arts Director
580-559-5353
bjessop@ecok.edu

Lauren Hathcoat
Facility Coordinator
580-559-5781
580-559-5487 (fax)
lauehat@ecok.edu

Ms. Carly Conklin
Front of House Manager
580-559-5600
cconklin@ecok.edu

Front Office
580-559-5851

Box Office
580-559-5751