Pride of Tigerland
The 140+ member Pride of Tigerland Marching Band is one of the largest student organizations on the East Central University campus and is the cornerstone of the ECU Athletic Bands.  The Pride performs for some of the largest crowds in Southeastern Oklahoma on the astro turf of Norris Field.  They also perform in exhibition at a variety of high school games and marching band competitions, including ECU's own Tigerpalooza Marching Contest in the Fall.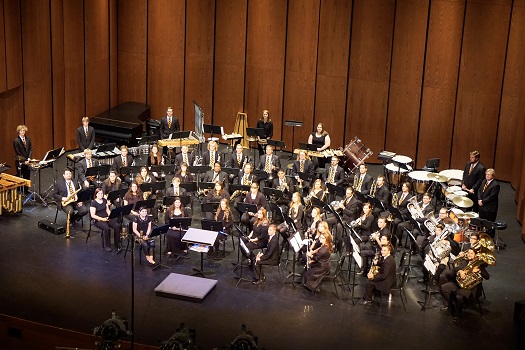 Wind Ensemble
 
The East Central University Wind Ensemble is comprised of approximately 50 students who have demonstrated outstanding musicianship and are committed to musical excellence.  Dedicated to the study and performance of traditional and contemporary repertoire, the Wind Ensemble performs two to three concerts during the spring semester.  Flexible instrumentation and part rotation allow diverse musical experiences and responsibilities in the performance of chamber works and concerto's as well as pieces for orchestral winds or large symphonic band.  The Wind Ensemble tours throughout Oklahoma each spring.
Symphonic Band
The East Central University Symphonic Band is a concert group consisting of 50-65 winds and percussionists who perform quality wind ensemble literature from classics to pop.  Admission to the ensemble is open to all university students.  They perform two concerts in the spring semester.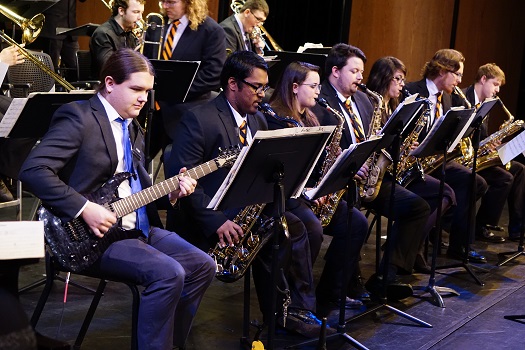 Jazz Ensemble
The East Central University Jazz Ensemble is a select, audition-based performance lab in which students study and perform music from the big band swing era, as well as fusion, bebop, rock and pop.  Jazz performance techniques such as swing/bop style, jazz articulation, and improvisation are major areas of focus.  Depending on enrollment, the Jazz Ensemble may be split into two or groups.  These groups perform both on and off campus, usually presenting 3 to 5 concerts per year.  For questions regarding auditions, contact Professor Nathaniel Berman at nberman@ecok.edu.
See the Jazz Ensemble's performance of "Blues in Frankie's Flat" on YouTube!


Pep Band
The East Central University Pep Band is comprised of highly energetic and spirited musicians who perform for ECU Volleyball, Men's Basketball, and Women's Basketball home games. The band plays a wide range of repertoire including rock, jazz, and pop music – often arranged by student members. The band will occasionally travel to represent East Central University at Great American Conference and/or NCAA Div. 2 Tournament appearances.  Instrumentation normally includes: 2 flutes, 3 clarinets, 3 saxophones, 4 trumpets, 2 mellophones, 3 trombones, 2 baritones, 2 tubas, and rhythm section. For questions about joining, contact Dr. Allen Correll at ACorell@ecok.edu.