Is Upward Bound Math & Science right for me?
If you answer "Yes" to all of the UBMS statements below, this is the program for you!
I want to go to college
I want to pursue a degree in math, science, technology, or engineering
I am committed to doing my best academically
2.5 GPA or better
Complete 2 assignments per month
Attend two workshops per semester
I am willing to do what is expected of me to be a good steward of my community
I can and will commit to coming to the 6 week residential summer academy
I meet all federal eligibility requirements
I have completed the 8th grade and are at least 13 years old
I meet the low income status. Only report on taxable income. Check Your Status
I am a first generation student because neither of my parents have a bachelor's degree
I reside in a target school or target area 
I'm eligible. What are my next steps?
You will need to complete the following documents and deliver/mail them to the office.

Signature Required on ALL Documents

Once your application is received, the office manager, will stamp the date of receipt on the application. The staff will review the application and forms for completeness. •NOTE: An application will not be considered until all the required paperwork in provided.
Once all paperwork is verified, you will be contacted to set up an interview. The interview panel consists of the director, counselor, two former students who attend East Central University, and a college math or science professor. The committee will determine eligibility and whether or not your child is a good fit for the program. You will be notified within 10 business days of your approval or denial
Have a special question?
We want to make the application process as simple as possible. If you have any special questions we didn't address here, our staff can help. Contact us
---
Our Mission is to foster a learning environment in which students, faculty, staff and community interact to educate students for life in a rapidly changing and culturally diverse society. Within its service area, East Central University provides leadership for economic development and cultural enhancement.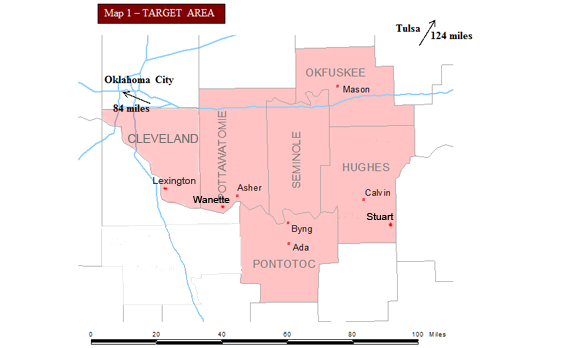 ---
CLEVELAND COUNTRY: Lexington
HUGHES COUNTY: Calvin, Stuart
OKFUSKEE COUNTY: Mason
PONTOTOC COUNTY: Ada, Byng
POTTAWATOMIE COUNTY: Asher, Wannette
There are over 1900 potentially eligible students within an 84-mile radius of ECU. Want more information?