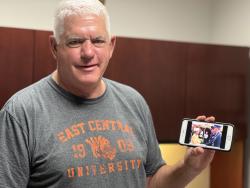 Many around the world mourn the death of Queen Elizabeth II, the longest-reigning monarch in British history. The queen had met four popes and 13 presidents throughout her reign, and East Central University professor, Dr. Steve Gardner.
"I met Her Majesty in 1989 while stationed in England with the USAF," Gardner said. "I was stationed as a liaison from the Air Force to the Royal Scots Dragoon Guards, a cavalry regiment of the British Army."  
The regiment was about to be moved from Tidworth Barracks to Germany for a 10-year stint. As part of the traditions, there was a military tattoo, a celebration of sorts, including a garden party and a review of colors.
Gardner recalls hearing the march begin as the queen, Colonel-in-Chief of the Royal Scots Dragoon Guards, reviewed the colors.
"In comes the bagpipes and the drums and then here comes the queen," he said. "It was really something."
Gardner met the queen at the garden party, which Gardner's wife also attended.
When the monarch approached him, he saluted her, she saluted him in return, and then they both shook hands.
 "You're Steve, aren't you?" the queen said.
"Yes, I am," Gardner replied.
"I was amazed," he said as he recalled the brief exchange. "She knew about my kids and what I was doing there. Obviously, they told her, but she met a lot of people that day."
As the queen shook the Army liaison's hand, who was next to him, the photo was snapped, capturing Gardner in the image.
"She was very personable and very charming," he said. "You almost felt like if you met her again, she'd know who you were without having to be briefed again."
Gardner described her as kind and smart with a soft voice and remarkable memory.
"She was just walking around, talking to people," he said. "I was always very fascinated with her."
At the same garden party where he met Queen Elizabeth, Gardner had an unexpected surprise.
"My wife and I were standing there talking to this couple at the garden party, talking about teenagers and raising kids," he said. "A lieutenant walked up to us and said, 'Oh, I see you've met the King and Queen of Greece!'"
The royal family of Greece was in exile at the time. The Prince of Greece was part of the Royal Scots regiment while Gardner was there.
Years later, back in the States, his wife's sister (who is English) and friend visited Gardner's home.
"They saw the picture on my wall and one of them said, 'You've been presented to the queen?' I said, 'Yeah, doesn't everybody in England get to do that?'" Gardner said.
"No!" she told him. "I saw her entourage going the other way on a motor way one time and that was exciting!"
Gardner laughed as he fondly remembered the queen.
"I think she was an amazing lady and I'm really sorry to see her gone," he said. "Blue skies and Godspeed, Your Majesty."