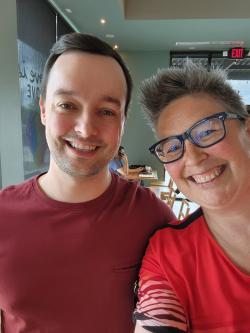 Submitted to ECU
Jeremy Hendley is an Ada native, graduate of Ada High School, and for the past 16 years, an employee of the Chickasaw Nation. He entered East Central University's Legal Studies program in 2010 with one goal in mind: becoming an attorney. "Growing up in a small town, I experienced a sense of community and helping others. It was this experience, and my wife's struggles with the immigration system that compelled me to pursue a career in law," Hendley said. 
When Hendley met and married Alma Aracely, his life changed forever. Having arrived in the US as a child, negotiating her legal status became a decades-long puzzle which was just recently resolved. In 2012, President Obama used an Executive Order to create the Deferred Action for Childhood Arrivals (DACA) program. Aracely became one of the over 600,000 to sign up for the program. Through DACA, she was to obtain lawful status, but the program provides no path to US citizenship. Furthermore, because DACA was created through an Executive Order, subsequent administrations could potentially end the program. 
After two years at ECU, Hendley moved to Norman where he completed his education at the University of Oklahoma, earning his bachelor's degree in 2015. Although many students elect to start law school immediately after completing their undergraduate studies, Hendley's dream of becoming an attorney was on hold due to the uncertainty of Aracely's immigration status.
After several years of endless requirements, lengthy processing times, and costly fees, Aracely was finally able to receive her US citizenship last year. "I was surprised at how difficult the whole process was. We never would have been able to navigate the complex immigration system without the help of our attorney," Hendley said. 
With his wife's immigration status clarified, Hendley turned his attention to the dream of going to law school. Applicants need a high undergraduate GPA, a competitive score on the Law School Admission Test, and stellar letters of recommendation. Hendley's only academic letter of recommendation was from Dr. Christine Pappas, chair of Department Politics, Law, and Society at ECU. In addition to being his advisor, she taught Hendley in two classes: US Government and Introduction to Political Science. "I remember Jeremy from the service learning projects we did in class," Pappas said. "He was a hard worker and incredibly detail oriented whether he was working in the community or completing his class work." 
Hendley applied to the top 14 law schools in the country and was accepted at over half of them. Like many aspiring lawyers, admission to Harvard Law School was the dream. Until just two weeks ago, Hendley thought he was going to attend Columbia Law School in New York City and had even traveled there to find an apartment and a college for his wife to attend so she could continue her Pre-Med studies. However, when the call came from Harvard, Hendley was ready to change his plans. The couple will be moving to the Boston area without ever having visited.
Reflecting on his journey, Hendley said, "When I started my journey to law school, I never imagined I would end up at Harvard. I consider myself an ordinary guy. I grew up on the baseball field, attended the local high school, and spent my summers mowing lawns and fishing." 
He is considering a career in immigration law, but is open to all of the opportunities and career paths that Harvard Law School could open for him. "I feel honored to be attending such a prestigious institution as Harvard Law. This is an opportunity for me to bring about change and to advocate for others," Hendley said.