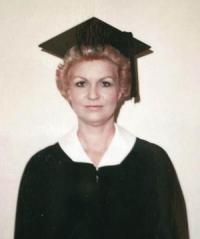 If you've heard the name "Lancaster," you more than likely know the name of a family that has made lasting impacts not only at East Central University, but around the Ada and Byng communities and beyond.
The Lancaster tradition at ECU began in 1970 with a middle child being the first to attend college in her family. Connie Lancaster didn't expect to go to college but enrolled at ECU as a mom working a full-time job at a time when non-traditional students were rare on a college campus. Connie exceeded expectations, earning her bachelor's and master's degrees from ECU. She completed her LPC and finished her career as the Pontotoc County Director for the Department of Human Services.
While various career paths have been taken within the family, Connie inspired several of her family members to obtain college degrees from ECU, including nieces Adrianna Lancaster, Tiffany Lancaster Frye, and Kyra Lancaster Miller; great-nephew Colton Lancaster; and granddaughter Jayci Harris.
Adrianna Lancaster completed her bachelor's degree at ECU, then her master's degree and PhD at Texas Women's University. In 2003, Adrianna returned to ECU to work until her retirement in 2021.
Tiffany Lancaster Frye completed her bachelor's and master's degrees at ECU, earned her CPA and has more than 15 years of accounting experience in the Ada Community.
Kyra Lancaster Miller graduated from ECU with a bachelor's degree and is currently administrative assistant to Pontotoc County Commissioners.
Colton Lancaster earned his degree in Cartography from ECU and is employed as a GIS technician for The Chickasaw Nation.
Jayci Harris earned her bachelor's and master's degrees at ECU. While teaching at Homer Elementary in 2018, Jayci received the Presidential Award for Excellence in Mathematics and Science Teaching – the federal government's highest honor for K-12 math and science teaching.  Jayci is currently a school counselor for Byng Public Schools. 
Many ECU graduates married Lancasters, including Bob Tweedy, Connie's husband of 42 years. Six of Connie's cousins completed degrees at ECU, and their children and grandchildren have also attended and graduated from ECU.
Connie's achievement at ECU has left a legacy of family following in her footsteps. In honor of that legacy, the Lancaster family created the Connie Lancaster Tweedy Professional Programs in Human Services Memorial Scholarship.
With more than 20 graduates from ECU (not counting in-laws), the Lancaster family truly embraces the sentiment expressed by ECU alumni Governor George Nigh: "You can do it from here!"
The Lancaster Family will be formally recognized at ECU's Evening of Honors and Recognition Friday, May 6, at the Chickasaw Business and Conference Center.
Sponsorships are available at various levels for the event including a Gold Sponsorship for $3,000; a Silver Sponsorship for $1,500; and a Bronze Sponsorship for $250.
Individual tickets are also available at $75 each. Advance tickets are recommended.
To register, contact Ashia Todd at atodd@ecok.edu or at 580-559-5724 or visit ecok.edu/2022EOH.