Two East Central University alumni will be honored Thursday, Sept. 29, as inductees to the Gene and Evelyn Keefer Educators' Hall of Fame. The event will be at 2:30 p.m. at the Raymond Estep Multimedia Center in the Bill S. Cole University Center.
Shelby Morgan and Dr. Cindy Machado will be honored with a reception to follow in the Lanoy Education Building.
The Educators Hall of Fame is sponsored by Janice Diamond and Paul Keefer, the children of Gene and Evelyn Keefer, to recognize ECU-prepared educators at any level who have made a significant contribution to the field of education.
The Hall of Fame is dedicated to the Keefers and other parents who – like them – could not afford to go to college but made it a priority that their children have that opportunity.
Mr. Shelby Morgan
Mr. Shelby Morgan graduated from ECU – then known as East Central State College – in 1973 with a bachelor's degree in science. During his time at ECU, he was a dual athlete playing baseball and basketball. He was presented with the Gem Jeweler Award as most valuable ECU athlete and received both College All-Conference and All-District Baseball recognition.
In 1986, he was inducted into the ECU Athletic Hall of Fame. Morgan earned his Master of Education and Administration from East Central University in 1983. He taught at Latta Public School from 1973 to 2002, holding multiple positions, including science teacher, junior high principal, high school principal, baseball coach, and girls' and boys' basketball coach.
In 2007, Morgan was elected to the Oklahoma Girls Basketball Coaches Association Hall of Fame. From Latta, he went to Whitesboro, Texas, where he was a science teacher, basketball coach, and curriculum director until retiring in 2013.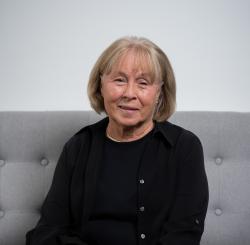 Dr. Cindy Machado
Dr. Cindy Machado graduated from ECU in 1971 with a bachelor's degree in Elementary Education. She earned her master's degree in Special Education from Oklahoma State University in 1974.
While at Western Illinois University, she completed her Elementary School Principal certification, and secured a specialist degree in Administration. Later at the University of Iowa, she completed course work for certification for Superintendent of Schools.
Machado completed her Doctorate in Education Administration with a focus in Leadership and Curriculum at Oklahoma State University in 2007.
In her 50 plus years of educational experience, she has worked in private and public-school systems as an elementary teacher, middle school teacher, and elementary principal serving the states of Oklahoma, Utah, California, Kansas, Iowa, and Illinois.
She has also worked as a special education director, central office administrator, and college instructor. Her career includes many awards and distinctions. During her time as the principal of Wilson Elementary School, the school was recognized as a National Blue Ribbon School. Machado was awarded the Master Teacher Award in 1994, Excellence in Education Award for Ottawa County in 2009, and the Leadership Principles Award for Western Governor's University in 2017.
For more information about ECU's Department of Education, please visit ecok.edu/education.